The family of Jerome Singh who was fatally struck down on the Bagotstown, East Bank Demerara public road say they are still awaiting for justice to be served.
Singh, 61, of Lot 3, Water Street, Bagotstown, East Bank Demerara was struck on July 27 as he was crossing the public road. He was hit down by a car driven by a Herstelling, East Bank Demerara businessman, his brother John (only name given) said. "He was crossing and one side of the traffic stop and he was crossing over to the other side when the car hit him down", John explained to this newspaper.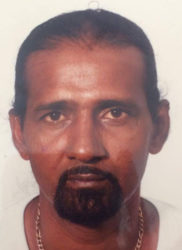 The family is calling on the police to act swiftly as they believe the matter would be ignored and they won't get justice.
Deputy Superintendent Ashram who is responsible for the East Bank Demerara Sub Division told Stabroek News that the file is currently with the DPP's office and they are awaiting advice before any charge is instituted.
John added that when he visited the Diamond Diagnostic Centre, he saw his brother lying on a stretcher. He lamented that the hospital took almost three hours before transferring his brother to the GPHC, noting that the doctors performed their duties very slowly. Jerome, Stabroek News was told, died around 2 am on the 28th of July while receiving medical attention.  The brother believes if the doctors at the Diamond Diagnostic Centre had worked faster his brother's life might have been saved.
Jerome leaves to mourn his siblings and two children: Aman 14, and Annalisa 16.
Around the Web