People's National Congress Reform (PNCR) Chairman Basil Williams yesterday urged members to work for equal opportunities for every citizen even as he stressed that the party must deliver on election promises.
"In this Biennial Congress, we must continue the mandate of the APNU+ AFC to remove divisions between coast and hinterland," Williams said as he delivered the Chairman's address at the PNCR's 19th Biennial Delegates' Congress, which opened yesterday at its Congress Place, Sophia headquarters.
Williams yesterday also underscored the significance of the current congress, where for the first in time 23 years the leader of the party is also President of Guyana.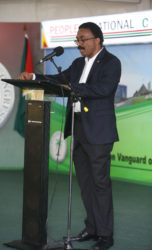 Williams, who was welcomed with thunderous applause and screams of his name, noted too that it is the first time in 52 years that the Prime Minister of another party attended a PNCR Congress. Vice-President and AFC Executive Moses Nagamootoo was among several members of the AFC party who were present at the Congress.
He stressed that as a coalition, the government now owes the people and has to deliver on promises made during elections. "Comrades, in this our 19th Biennial Congress, I am pleased to announce that we made the right choice. That with our leader, David Arthur Granger, on May 11th, 2015, we made sure we had the opportunity to form the new government. Now we must govern this nation of ours for all Guyanese. We must give the Guyanese people, the people of this country, the good life we promised them; jobs, education, health, entrepreneurial opportunities, and the right to happiness, peace and security," he declared.
"See why we love yuh Basil!" a voice broke though the quiet of the rapt audience.
"As a party in government, our approach to its business and operations must be in the first instance a support role; it must be the eyes and ears of the government. Therefore, the party must be on the ground at the grassroots and all reaches of society. In this regard, an effective functioning party machinery will be an invaluable asset… The increased membership and Congress houses are just some of the manifestations that these exaltations of the leader are taken seriously… Guyana's green development strategy must be developed as template for the greening of Guyana. We will have a green economy, we will transition our economy rapidly …we will create green enterprises and jobs and we will inculcate green education in our schools," he added to the thunderous applause and whistles of delegates.
He ended his six-minute-long address by quoting from the Bible. "Be strong and courageous. Do not be afraid or terrified because of them, for the Lord your God goes with you; he will never leave you nor forsake you," he quoted from Deuteronomy 31:6, as the auditorium erupted with elation and the voices of many finishing the verse for him.
Around the Web