President David Granger on Thursday said he was assured by the performance of troops during the week-long field tactical exercise 'Homeguard' that the Guyana Defence Force remains ready to fulfil its mission.
"Exercise 'Homeguard' is a reaffirmation and reassurance to the Guyana Defence Board, some members of which are present today, that the Force is properly commanded and ready to fulfil its mission. Exercise 'Homeguard,' through the training and tactical prowess that you have displayed so competently and convincingly, is a source of comfort to our citizens. They can rest secure in the knowledge that you stand watch over our motherland, securing it danger," the Commander–in-Chief said at the Tacama Training Area (TTA), Berbice River, where the exercise was concluded.
According to a press release from the Ministry of the Presidency, President Granger witnessed the conclusion along with Prime Minister Moses Nagamootoo, Guyana Defence Force Chief-of-Staff Mark Phillips and other senior officials.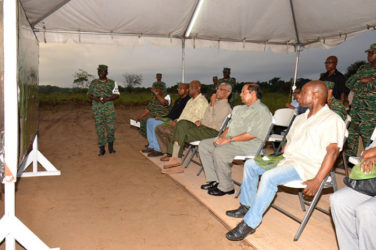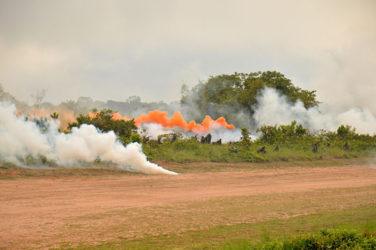 Colonel George Lewis, Deputy Chief of Staff of the GDF, in his briefing before the commencement of the 'final attack,' said that the aim of the exercise, in which 91 Officers and 945 ranks participated, was to directly assess the operational readiness and capability of the GDF in close and open country warfare operation.
The release stated that the exercise commenced on August 16, 2016, with the final contingent of troops moving into the Exercise Area, located in the jungle and savannahs of Ituni, in Region Ten, and Tacama, in Region Six. The high level of diligence displayed by troops resulted in the exercise being concluded one day ahead of schedule.
According to the release, the President said that the GDF has a mandate to protect the citizens and defend the territorial integrity of the country. It is therefore, imperative, he added, that training is held round-the-clock to ensure that the servicemen are always prepared and ready for any challenges which may arise.
"The Force, in order to complete its mission, if it is to master the art of war, it must train. In Guyana, you must master, also, Guyana's diverse landscape, consisting of low, flat coastal plain, hilly sandy zone, undulating savannahs, swampy wetlands, verdant rainforests, majestic mountains and myriad meandering creeks and rivers. You have to learn to operate in all of these areas and I am happy that 'Homeguard' has moved you in different terrains, different landscapes so that you master all of the ecological zones in this great country…," the release quoted Granger as saying.
Phillips, in sounding a victory call for the troops, said that they had indeed excelled. He noted that this success is demonstrated through the early completion of the exercise, the release said.
Around the Web