The Rotaract Club of Georgetown Central (RCGC) last Saturday distributed shoes, backpacks, stationery supplies and outdoor equipment to the Lima Sands Nursery and Primary schools.
The initiative, dubbed Operation B.O.O.S.T, which stands for 'back to school,' 'outreach,' 'outdoor playfield construction,' 'service provision' and 'togetherness,' aimed to "promote the roundedness of pupils through the provision of outdoor playfield equipment; brightening of the interior walls and renovation of the library area," according to a release from the club.
The initiative, the release said, involved the provision of a facelift to the nursery school compound, which was outfitted with a swing set, a seesaw and a crawl tube, which, along with the institution's interior walls, were painted by the volunteers.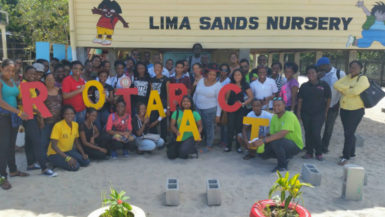 The donated supplies included 150 backpacks filled with stationery, which were distributed to students at the nursery level and from Grades 1 through 6 at the primary level.
According to the release, Headmistress of the Lima Sands Nursery School Salome Persaud expressed gratitude to the volunteers for their assistance, while noting that the school has been in dire need of outdoor equipment for some time now.
The charity of the volunteers was not limited to just the young children in the area, but also extended to the adults of the community, who benefited from a medical outreach led by Dr. Karen Boyle at the Suddie Hospital, the aim of which was to educate on the importance of healthy lifestyles. Assisted by personnel at the institution, they were able to provide a number of services, including blood pressure and blood sugar testing.
"Through doing better and being better, we will make Lima Sands better," was the theme of the project, which saw approximately 90 volunteers turning out to lend assistance. The volunteers represented RCGC, the Rotary Club of Georgetown Central, the Rotaract Club of Georgetown, the Leo Club of Essequibo and the Suddie Hospital.
Around the Web