An initial review of the two-decade-old Monica Recce murder investigation has revealed that "an unprofessional course of action" was taken, according to acting Commissioner of Police David Ramnarine.
Ramnarine made this disclosure yesterday morning during a press conference held at his office.
"The first review clearly indicated that an unprofessional course of action was taken that year and period the matter was under investigations," Ramnarine said of the April, 1993 murder.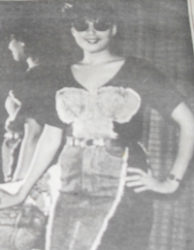 Although the review of the initial investigation is said to be still ongoing, Ramnarine said it was clear and safe for him to say that strict investigating procedures were breached during the period of investigation.
The death of the then 19-year-old Reece, a security guard, has been seen in some quarters as one of the major events in the rise of crime in the 1990s.
Reece's body was dumped from a speeding pickup vehicle in the vicinity of the Geddes Grant building (now Courts) on Main Street, Georgetown on April 9, 1993.
The police had picked up a suspect and questioned him and also detained a vehicle he sometimes drove, but shortly after, the lack of evidence caused him to be released and the vehicle was returned.
An announcement of the reopening of the case was made recently by Crime Chief Wendell Blanhum, who had said that the decision followed calls made by members of the public, and particularly by relatives of the victims.
Around the Web