A taxi driver died yesterday afternoon following an accident on the Railway Embankment at Plaisance, East Coast Demerara (ECD).
Carl Johnson, of Lot 9 B, Nimrod Road, Two Friends Village, ECD, died a day after celebrating his 63rd birthday. He was driving home when he reportedly lost control and crashed into a utility post.
However, from all indications, Johnson did not sustain any external injuries. His car also had just minor damage. The family is awaiting the results of a post-mortem examination to find out his cause of death.
A Plaisance resident said persons on the road had noticed the car swerving and seconds later it crashed into the utility pole. The resident stated that the car was moving slowly.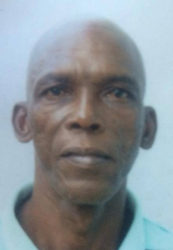 A crowd quickly gathered following the collision and a police officer, who was passing, intervened. Johnson was taken to the Plaisance Health Centre, where a medical practitioner pronounced him dead on arrival.
Over in Two Friends, his family and fellow villagers were still trying to come to grips with the news when Stabroek News visited yesterday afternoon.
His wife, Karen Johnson, explained that she received a phone call sometime around 2 pm. She said the caller told her that her husband had been involved in an accident and was at the Plaisance Health Centre. "When we get to the health centre, we saw him lie down in the car stretched out… The doctor had already pronounced him dead," the wife lamented.
She said he was on his way home for lunch as usual when the accident occurred.
Johnson had worked as a taxi driver for approximately 20 years in the vicinity of Fogarty's on Water Street.
He is survived by his wife and seven children.
Around the Web