Two licensed firearm holders have been arrested as the investigation continues into the recent vigilante incident at Pearl, where Seon Clarke was shot to death and another man was beaten, according to acting Commissioner of Police David Ramnarine.
Clarke, 26, was shot and killed and his friend was beaten by residents at Pearl, East Bank Demerara, after the proprietor of a shop noticed two men acting suspiciously around his business.
The police had said in a statement that Clarke and his friend visited a grocery store and were allegedly behaving in a suspicious manner, prompting the owner of the business to run out to the road and raise an alarm. A police officer, who was passing at the time, responded to the alert and the men escaped into the surrounding bushes, it added.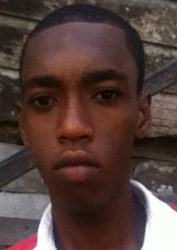 During an ensuing search, police said, two loud explosions were heard but the two men remained elusive and were not found until later that night, around 11.30 pm, on the Pearl Public Road, by members of the community. The statement said that Clarke was shot by a resident and his friend was beaten before they were handed over to the police.
The injured men were rushed to the Diamond Public Hospital, where Clarke was pronounced dead on arrival and his friend was treated for minor injuries and then taken into police custody.
On Monday, the police reported that during investigations Clarke's friend took investigators to a location at Pearl, where he handed over a .380 Beretta pistol with six matching rounds, along with two cellular phones.
Ramnarine yesterday told reporters during a press conference at his office that he fully appreciated the fact that the members of the public took the law into their owns hands in this instance.
According to Ramnarine, a number of factors contributed to the spontaneous reaction of the citizens at that point in time. "They were basically saying look you guys are disgracing us and … they recognise the failures in the criminal justice system and maybe looking at it in this way – if they hand them over to the police, they might end up on the streets sometime after appearing in the court," he said.
In a bid to assist the force with investigations from another angle, he said the International Criminal Investigative Training Assistance Programme (ICITAP) recently conducted a series of training on anti-corruption and other issues, with 35 investigators from the Office of Professional Responsibility. As a result of this, he said, there has been more qualitative and in-depth investigations.
Around the Web