Two children are now dead and their parents are injured after the boat they were travelling in along the Aruka River was hit by another boat and capsized on Thursday evening.
Dead are Loyzal DaSilva, 9, and Daveannand James, 7, of Central Kumaka, who were travelling with their parents Basil DaSilva and Ophelia James.
Stabroek News was told that the family was heading home around 8pm when the incident occurred.
This newspaper was told that a speeding boat hit theirs from behind, causing it to capsize and tossing the family into the river.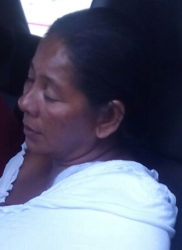 "The boat got damaged and from what we are being told is that they were left there in the river for about an hour and a half before they were rescued," a source from Mabaruma told Stabroek News yesterday. He related that after the boat capsized and the family went overboard, DaSilva and James were unable to find their children because of the darkness.
DaSilva and James were taken to the Mabaruma Hospital, where DaSilva was treated for minor injuries. James, meanwhile, who sustained several broken bones, was air dashed to the city and admitted to the Georgetown Public Hospital.
Stabroek News was told that DaSilva and others returned yesterday to the area where the incident occurred along with the police and were able to retrieve the children's bodies.
"The other boat that hit them has not been found as yet and that's what they are trying to locate," the source said.
Around the Web