DNA samples taken from the skeletal remains of a woman suspected to be Babita Sarjou have been sent overseas for analysis, according to acting Commissioner of Police David Ramnarine.
Ramnarine told reporters on Friday during a press conference that the samples already left Guyana for a Caribbean country and the police are awaiting the results.
Skeletal remains, believed to be those of the missing Sarjou, were unearthed in May at the residence of her estranged husband, Anand Narine, in Campbellville.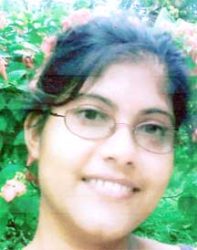 On the eve of Diwali, in November of 2010, Sarjou had left her Timehri home to view the annual motorcade with her estranged husband and four-year-old son. She had promised she would be back home at around 9 that night.
Narine had faced intense scrutiny over her disappearance as there was a history of domestic violence in the relationship, which was evidenced by several reports made at the Kitty Police Station and the Timehri Police Station.
He had earlier been charged with harassment for allegedly exposing pictures of a half-naked Sarjou to the public, with a view to corrupting public morals. The photographs had been displayed around her place of employment on August 31, 2010. He was freed of this charge a year later after Sarjou, who was the main witness, had disappeared.
Following the discovery of the skeletal remains, Narine, 35, called 'Yankee,' and his alleged accomplice, Darrol Campton, were charged with Sarjou's murder in May. It is alleged that on November 4, 2010, at George-town, they murdered Sarjou.
Narine had allegedly paid his accomplice $50,000 and promised him a trip to Trinidad to kill Sarjou. They allegedly dug the three-ft grave two days before she was killed.
A preliminary Inquiry (PI) into the murder charge is currently ongoing.
Around the Web