A Guyana Defence Force (GDF) team scored 2,583 points (75.97%) to finish ahead of teams from Bolivia, Venezuela, Sri Lanka, and Colombia at the recently concluded, Amazon Military Command International Patrol Competition in Brazil.
According to a press release from the GDF, the competition was conducted at the Jungle Warfare Training School 'Centro De Instrucao De Guerra Na Selva (CIGS) in Manaus from August 20 – 25.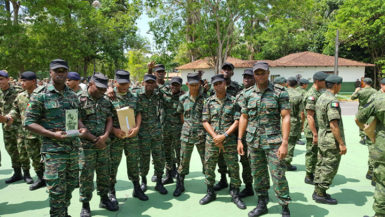 The five-day competition saw the teams competing in more than 20 events including shooting from a moving platform, team shooting and events relating to anti-smuggling, anti-illegal logging and annihilation operations, in the jungles of Manaus. Tested three times daily and also at nights, teams were challenged to execute military jungle tactics and apply the relevant knowledge in the jungle environment, the release said.
The other teams competing were Brazil's Amazon Military Command, North Military Command, Navy and Air Force as well as teams from Canada, China, East Timor, Germany and Mexico, the release said. Each team had 10 members.
The GDF release said Guyana's team comprised Lieutenant (Lt) Lionel Medford (Observer), Lt Simon Gordon, Warrant Officer Class Two Cleveland O'Brien, Sergeants Michael Holder and Cornelius Messiah, Lance Corporals Deon Gilead and Stevie Petrie, and Privates Rod Jeffery, Sean Williams, Timothy Adams and Euclid Wright.
It noted that Guyana has traditionally subscribed to jungle courses with more than 40 officers and ranks trained at the CIGS. Guyana ranks fourth among foreign nations to have sent the most troops for training there, it added.
CIGS, established in 1964, is known internationally for high quality jungle training. Since then, it has graduated more than 6,000 Brazilian troops and troops from throughout the world, who would have travelled to Brazil to take part in the centre's specialised jungle training courses.
Around the Web