Town Clerk Royston King has assured city councillors that there shall be no legal ramifications arising from the city's decision to pull the contracts of the two garbage collection companies in some wards of the capital where the Mayor and City Council (M&CC) is now responsible for collection.
Last Saturday, Cevons Waste Management and Puran Brothers Waste Disposal Inc. both received a letter from Director of Solid Waste Walter Narine that indicated that with effect from August 22, services that their companies have been providing to the municipality in some wards would be suspended until further notice.
The wards where collection services will now be provided by the city are Alberttown, Queenstown, Cummingsburg, Kingston, East Ruimveldt, North and East La Penitence, the main commercial districts of the capital, Lamaha Springs and Lamaha Park, and North and South Ruimveldt.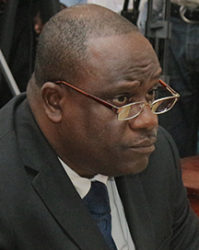 At Monday's statutory M&CC meeting, Vice-Chairman of the council's Finance Committee Alfred Mentore asked King if the council needs to be concerned about possible legal action being taken by the contractors in light of the decision to effectively terminate their contracts in some parts.
"I know that these are legally binding contracts within which we have certain responsibilities and they have certain responsibilities. Are we sure there are no legal concerns here?" Mentore asked.
In response, King assured that no concerns exist.
"Not in the least way," he said, while adding that the "contract is flexible and there is a clause where we can give adequate notice and then act. We have gone ahead to do that and they are on the same page with us."
Stabroek News was however unable to confirm whether the contractors agree with King's version of events. Attempts to reach Puran Brothers proved futile and Cevons CEO Morse Archer told this newspaper that he was unable to comment as he was on a trip out of town.
This council's decision came one week after the contractors indicated their intention to suspend their operations over hundreds of millions of dollars owed to them.
The two private companies are owed over $250 million by City Hall and threatened to take strike action as their overheads are piling up and their employees and creditors are looking to them for swift payments.
"We were owed $97 million and were paid $1.2 million. We keep asking the bank to bear with us as we have our own debts but there is only so much they can bear," General Manager of Puran Brothers Waste Disposal Inc. Kaleshwar Puran had told this newspaper.
Similar sentiments were expressed by Archer on behalf of Cevons. "We are owed $168 million. We can't go on. We have exhausted our monies and are existing at the mercy of people crediting us. If we don't get substantial payment we will be forced to strike," he said.
King's response was that the city did not have enough funds to meet its financial obligations.
While the companies have expressed the opinion that City's Hall decision was a backlash for their decision to go public with their concerns, the city administration maintains that this is not so.
Narine explained that the move, which he said was being planned for a long time, will help to limit the council's debt.
"We are indebted to the contractors and can't add to our debt. This way the council will save more in excess of $14M a month," he said.
King added that the council's inability to pay the contractors had also limited their ability to provide adequate service. "They were also running out of money to service these areas, so they are on board with us," he told the meeting.
Around the Web