Embattled Public Health Minister Dr George Norton yesterday beat out two competitors to retain his position as Vice-Chairman of the People's National Congress alongside Minister of Social Protection Volda Lawrence.
Results of the votes cast revealed that Norton secured 227 votes while 393 votes went to fellow veteran vice-chair Lawrence. Attorney-at-Law James Bond garnered 148 votes while former Region Four Chairman Clement Corlette received 8.
President David Granger, who was unchallenged as the party's leader, was in high praise of the congress organisers for their roles in ensuring that everything went smoothly.
"As you can see it was a smooth congress. There were no complaints about registration, there were no complaints about registration. Mr Mike Sommersaul conducted a seamless election process. Everybody was satisfied. In term of organisation we were very satisfied…we have done well so far," he said.
After the party's 19th Biennial Congress ended yesterday, an elated Norton told Stabroek News that he always had faith that his party's members would be forgiving and give him another chance to work for them and said not once did the pharmaceutical bond issue come up.
Norton is under fire over the rental of a Lot 29 Sussex Street, Charlestown bond to store pharmaceuticals at some $12.5M per month. He and the government have come under unrelenting pressure over the contract since he made disclosures about it after intense questioning in Parliament on August 8 during consideration of a financial paper. It was later revealed that the minister had provided false answers to several of the questions and while he has since apologised, there have been calls for his removal and for Cabinet to take ultimate responsibility.
"I am (overjoyed), it tells me and I am convinced that I am in the right party. I always thought that PNC was a party for me, as a young person growing up when I joined the party in the first. Secondly, because I am in an ethnic minority in this country that caters for people's needs," he said yesterday.
"The mere fact that I am the vice-chairman of the PNCR tells me that I can be leader or anybody like me can be leader, which augurs well for the party. You don't have to be of a particular ethnicity before you can aspire to be leader. I think we had some very important issues in the whole congress and that bond issue was nowhere on the burner, only James Bond," he added, referring to the attorney who had also contested for the post of vice-chairman.
The over three-decade old member of the PNCR has said that he has learned from the bond situation and feels the experience has helped his growth as a politician and more so as a minister. As a result, he has said that he had asked delegates to give him the opportunity to serve in the capacity once more.
'Face the music'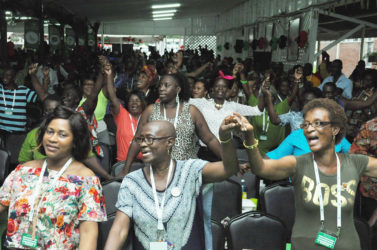 A beaming Norton said he was confident that he would beat out his competitors as he had told this newspaper, going into the congress, that when it came to giving selfless service to the party, he was tried, tested and not found wanting.
Sending a warning to the opposition PPP/C, which has remained relentless in saying that he should be tried before the Privileges Committee of Parliament, Norton said his remorse should be an example to them of what a great leader should be and how a party acts when one of its member defaults.
"Quite unlike in the days of the PPP where allegations of corruption and whatever they might have charged me with was made against other persons, including taking them to the Privileges Committee, I want to say that the image of my party permits me to face the music and for me to recognise that if I made a mistake, then I can shoulder it and come clean. There is nothing for me to hide…as I said in my statement, I gave information on what was provided to me, which proved to be incorrect afterwards. My apologies. And while I may have fallen down, there I am ready to pick myself up and run again," he asserted.
"The PPP has got their own problems with Privileges Committee. What they should remember is that two of their leaders would have let's say, qualified to go or warranted. One might be very, very soon faced with that and they must remember that they are in a minority," he added.  Norton was not the only one on a victory high yesterday as Lawrence explained, "I feel very elated. One, that the members of the party nominated me again for that position and other positions. I am more elated that in a hall comprised of women and men, a lot of men, that I was able to get the votes of both genders showing that our party is steadily moving forward in ensuring that women have a place in the highest forum, whether it is the party or any other organisation and I am very happy that our party is very steadfast in that and I thank them all for that," she added.
Stabroek News did not see challenger Corlette but caught up with Bond who reiterated that for him it was never a competition but a chance to be a voice for youths in the party. He was happy with his performance given that the party's youth arm only had 70 delegates present at the congress.
'Voice for youth'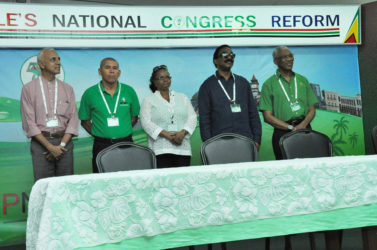 "I think a casual observer would look and see the dynamics are changing. People were saying that the young people did not have sufficient representation within the party yet still (we) were able to garner 148 votes. I think we did extremely well. We did better than many expected and I think we set the platform. The whole idea was to position young people forward. We didn't have a platform but now we can say we have a platform. We didn't have enough delegates. I think GYSM (Guyana Youth and Student Movement – the party's youth arm) had 70 delegates which is not good and which we intend to work on," Bond declared.
"Now we were able to impress the general membership of the Biennial congress and I think they repose great interest in us. We pitched our ideas for vision 20/20 and they bought into it and they sent a strong message that we are willing to work with the young people.
We willing to see young people represent our party at the highest level. I never saw myself as running against anyone or competing against anyone…I was just putting myself out there for service…We feel that if we get more of the young voters on aboard with the PNC/R, we will have a greater say," he added.
Meanwhile, members will have to wait until later this week to know who will comprise the party's 15-member Central Executive Committee as Granger said those votes were still being tallied.  The party said in a statement that 55 persons contested for the positions. torney-General Basil Williams and Minister of Communities Ronald Bulkan were unchallenged and retained their positions as Party Chairman and Treasurer respectively.
Around the Web