The Women in Mining Group, an initiative of employees of Guyana Goldfields Incorporated (GGI), on Friday donated school supplies to the children of the Joshua House Orphanage.
The backpacks and stationery were all contributed by members of the group, and catered for students attending primary and secondary schools, as well as two who recently wrote the CSEC exams and will be moving on to tertiary education. Donations will also be made to the Shaheed's Boys and Girls Orphanages and the Ruimveldt Children's Aid Centre.
Contributions such as these form part of the group's community development practice, which also includes drives, medical outreaches and beautification projects.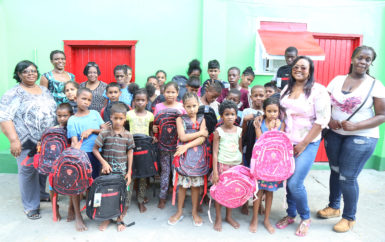 Chairperson of the Women in Mining Group, Maya Layne, shared that the network, established in May of last year, was mobilised with the aim of addressing the concerns of women in mining by providing empowerment and training to ensure efficiency in the field.
GGI Corporate Social Responsibility Field Assistant Leon Roberts said the group was established spontaneously to "advance issues germane to women who are employed by our company and to organise events and activities which would capture their interest as well as to provide role models of positive engagement of women in the mining sector through showcasing the involvement of women in nontraditional jobs for the inspiration of girls across Guyana."
Layne said that while the group at the moment is restricted to just women employed at GGI, it is hoped that they will soon be able to network with   the members of the Guyana Women Miners Organisation and other similar organisations.
Around the Web