A group of armed bandits, one of whom was dressed as a woman, robbed a Pere Street, Kitty hotel on Sunday night, when they carted off a quantity of cash and electronics and left staff members traumatised.
The attack on Mikel's Plaza, located at Lot 53 Pere Street, Kitty, occurred around 11.50pm. Staff member Mark Reid, who was held at gunpoint, was relieved of $14,000 and two cellular phones. The men also carted off a flat screen television and stocks that were packed in the refrigerator at the business.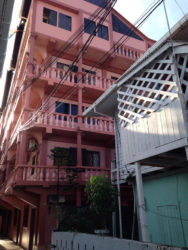 A witness, who wished not to be named, told Stabroek News that two persons, one male and female, posing as customers, visited the business minutes before midnight on Sunday. They were allowed into the building by Reid, who was operating at the front desk. It was at this point that Reid realised that he was in danger since the person he thought was a woman was actually a man armed with a handgun.
They were followed by three other men, who forced their way into the building.
They tried to gain entry into several occupied rooms located on the bottom flat of the four-storey building but were unsuccessful and escaped.
A police source told this newspaper that while no arrest was made up to late yesterday afternoon, investigators are reviewing CCTV footage from the business.
Around the Web