Two men, including a Brazilian national, were yesterday charged with trafficking nine women, who police say were held against their will at a Providence, East Bank Demerara house, where they were beaten and threatened.
The courtroom of Magistrate Leron Daly heard that between August 18th and August 24th, at Providence, Georgetown, Mario Figueira, a businessman of Bel Air, and Joaquin Fillio, a Brazilian national, recruited, transported and harboured the nine women for the purpose of sexual exploitation.
The men pleaded not guilty to all nine counts of the charge.
According to Figueira's attorney, K Juman-Yassin, the case is due to a misunderstanding between his client and the police. He said that the women came for a show and they stayed at one of Figueira's homes. The lawyer pointed out that the girls were never held against their will as they frequented a popular nightspot. He explained that on the day in question, the women were inadvertently locked in the house because of a deadbolt lock that could not have been opened.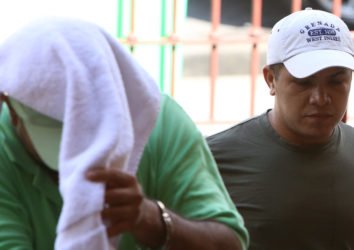 However, according to the Police Prosecutor Shevon Jupiter, the women said that they were held there and that they were beaten and threatened with a gun by the accused. She added that the two of the nine women have issued statements indicating that they were beaten and held against their will.
Juman-Yassin argued that the prosecutor should have evidence to show that the girls were beaten. According to him, they travelled by plane from Lethem and it was not a case that Figueira was harbouring the women. He went on to say that police never arrested his client and that he was the one who went to the police station himself.
Jupiter nevertheless objected to both men receiving bail, while saying that both men are a flight risk and have not given the police a fixed address. She said she fears that if the men were granted bail, they would tamper with the witnesses.
The prosecutor also mentioned that Figueira, who is a businessman, works in the interior and can escape from the police any time. However, Figueira gave his home address and his business's address at Quamina Street to the court.
The magistrate subsequently remanded Fillio to prison based on the fact that he has no fixed place of abode here, while she granted Figueira $120,000 bail on each charge. As a result, his total bail amounted to $1,080,000. As part of the conditions for his bail release, the magistrate ordered him to report to Eve Leary two days per week. The matter was adjourned until September 14th for trial.
Around the Web