Police have arrested the prime suspect in the murder of Port Kaituma shop owner Ramsammy Narine, who was killed on Sunday morning after he allegedly refused to sell two customers who wanted to buy more alcohol.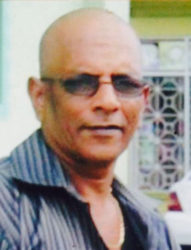 Narine, 55, of Lot 27 Best Road, West Coast Demerara, operated a grocery and gas shop at Four Miles, Port Kaituma, along with his son, Andrew Narine.
Narine, Stabroek News was told, was doused with gasoline and stabbed to his neck with an arrow after an argument between him and the customers.
Commander of 'F' Division Ravindradatt Budhram told Stabroek News the men were drinking at Ramsammy's shop when he told them he was closing. Budhram said the men became annoyed at the announcement and started an argument, which resulted in the shop-owner's death.
Budhram further said that the police are hunting for a second suspect and would soon be sending the file for advice from the office of the Director of Public Prosecutions before instituting a charge against the prime suspect. A post-mortem examination is scheduled for today, he added.
Stabroek News was told by the deceased's daughter-in-law, Mala Narine, that he was closing the shop at around 4am on Sunday when two men, who had already appeared to be drunk, asked to purchase "high wine." Ramsammy, however, refused to sell as he explained to the men he had already closed the shop. She added that her father-in-law closed the grilled gates and stood inside the premises as the men pleaded with him. "It seem like they were trying to bully him to sell them and after he refused they started an argument," she said, recounting what was told to her by Andrew, who witnessed what had occurred.
She said during the argument one of the men lifted a bucket filled with gasoline and threw it on Ramsammy and the other one, who was armed with an arrow, stabbed him in his neck.
Ramsammy was rushed to the hospital by public-spirted persons but he was pronounced dead on arrival.
Ramsammy, who only started the business three months ago, is survived by his wife and their five children.
Around the Web