The delayed furnishing of a Guyana Water Incorporated (GWI) well in 'E' Field, Sophia, has left residents in the area without an adequate water supply for several months, forcing some to use water from nearby trenches for domestic purposes.
Visiting the area yesterday, Stabroek News noticed that the street was lined with buckets and drums while residents patiently awaited the arrival of a "water truck" to bring them some relief.
The truck, is said to be one contracted by the GWI as a temporary means of supplying water to residents in that area.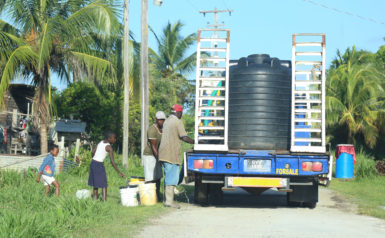 However, residents who spoke to Stabroek News yesterday, vented their frustration over the water situation- one that they have been forced to cope with for the past four months.
One resident explained that while the truck traverses the area daily, not everyone receives water on the same basis as most residents receive water from the truck every other day while those who are not at home when the truck passes, are left without.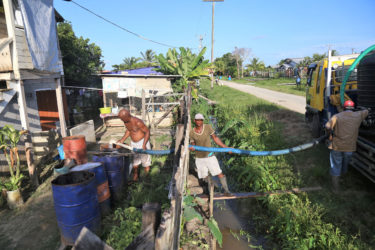 This, they say, has forced some persons to resort to using water from nearby trenches for domestic purposes, including bathing.
Another resident pointed out that there seems to be no limit on how much water one resident can receive at any given time as some persons show no consideration for other villagers.
This claim was further substantiated when Stabroek News observed one resident filling four drums while another was seen filling serval small buckets before the truck continued down the street.
It was the  opinion of residents that the current supply of water in the area is insufficient and will only get worse when the new school term begins.
Andrea Marks, the councillor responsible for the 'E' Field area,  explained that a new GWI well had already been put down sometime back but is currently waiting to be fitted so residents can benefit from a  constant supply of water.
She further noted that the truck usually works up until 7 in the evening daily.
Around the Web