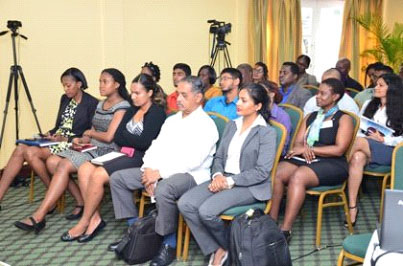 Twenty health sector specialists are participating in a four-day training course in the Hospital Safety Index and Green Economy Checklist Course.
GINA said that the training began yesterday. Persons benefitting from the training will be carrying out evaluations at hospitals across the country.
The concept 'smart hospital' refers to a health facility which is both safe and green, GINA added.
The smart hospital toolkit will facilitate existing hospitals to identify and implement low- cost adaptation measures.
The Green Checklist comprises water conservation, energy, solid and infectious waste management, indoor environment quality, food services, pharmaceuticals, hazardous materials and the atmosphere.
The US$6M project is being funded by the United Kingdom Department for International Development (DfID) as part of US$53M that has been assigned as a project for the development of Caribbean health care facilities.
British High Commissioner to Guyana, Greg Quinn, noted that, "It is a solid commitment by the British Government to the health sector here in Guyana. I think we can all agree that health facilities provide essential services to our daily life. I think we would also agree that after extreme events, it is absolutely vital that they are able to remain operational. That is what our overall programme of assistance is designed to do."
Permanent Secretary to the Ministry of Public Health, Trevor Thomas said that, "Persons trained in this programme will have the capacity to provide health care immediately following a disaster… I believe it goes beyond that because many of you may know that Guyana is a very big country relative to its population, a country where (the) majority of the persons are living on the coastland, yet we have our responsibility of providing quality health care across Guyana into its most remote areas."
PAHO/WHO representative, Dr William Adu-Krow stated, "We have smart phones, and we have smart cars, why can't we have smart hospitals?"
Minister within the Ministry of Public Health, Dr. Karen Cummings added, "These health care facilities will be disaster ready; in fact they should be operable in the face of a disaster, so all in all I know that this training will be a very good one", GINA reported.
Around the Web