Less than a year after $140M was spent to make the Lady Northcote seaworthy again, the vessel is down after the loading mechanism stopped working.
Public Relations Officer of the Ministry of Public Infrastructure (MPI) Desilon Daniels, in a recent response to a report on the online media site Citizens Report Guyana, headlined 'Region One residents claim PNC's political gains behind delayed operation of MV Northcote,' said the delay was due to mechanical issues.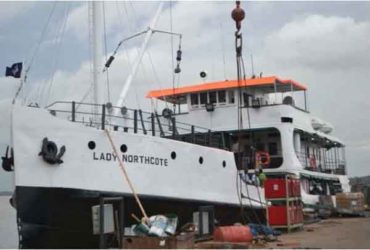 An official from the MPI confirmed to Stabroek News that the boat was suffering from a mechanical problem and was unsure when the problems would be rectified. The official explained that the problem was not with the boat itself but was with the loading mechanism. "The loading mechanism is used to lift heavy crates to load onto the ferry and that is what has the problem," the official said, while explaining that since it is difficult to load heavy creates onto the ferry, it made no sense for persons to travel without their goods.
The official explained that the ferry left Mabaruma and arrived in Georgetown on Friday since they had to resort to loading the cargo manually.
The official confirmed that with the ferry being docked in Georgetown, works have commenced but could not give a specific time on when they would be finished.
While the ferry was supposed to leave Georgetown by the end of the week, the official stated that because of the unforeseen problems and uncertainty about the completion date for the repairs, the schedule has not been set.
Daniels, in a letter to the editor that was published on August 26, said that the Lady Northcote has been facing issues for years and efforts have been made to rectify identified problems. "Over the years, the vessel – which is more than 75 years old – has undergone a number of dockings and repairs. In fact, extensive repairs were conducted on the vessel in late 2015 to reduce the discomfort of passengers and instances of delays and to improve travelling times," the letter stated.
Repairs had been undertaken by E.C. Vieira Investments Limited and had been estimated at approximately $70M but due to extensive unforeseen damage the final cost had doubled to $140M.
Among the renovations listed on the 78-year-old vessel were repairs to the hull and servicing of all on-board machinery; enhancement of interior and exterior decking; upgrades to the main and passenger decks, as well as the galley and the crew's bed and washroom facilities. The plates were changed, offloading, loading capabilities were improved and safety was boosted with the provision of 100 life rafts. The reconstruction of the underwater propellers was expected to reduce travel time for the ferry's Georgetown to Port Kaituma route from 36 hours.
Around the Web