With the addition of five new work stations at the Central Passport and Immigration Office in Georgetown, a larger number of applications are being processed at a much faster rate, resulting in the disappearance of the regular early morning lines outside of the location.
Stabroek News had visited the passport office on four different days last month and documented the experiences of applicants, many of whom had travelled across regions, having left their homes in the wee hours of the morning. Between the hours of 7am and 10 am, not only were long lines of people observed along the Camp Street roadway, but the shed, the first stop for persons processing their applications, had filled to capacity.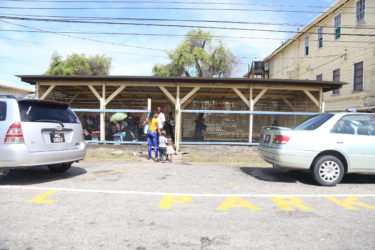 These lines are no more, however, as recent visits have revealed.
According to Deputy Chief Immigration Officer Senior Superintendent Dale Alves, the Passport Office sees an average of 400 applicants per day and begins processing applications around 7am daily, or sometimes earlier, and work is often now completed by 1.30pm.
"Where, before, to process about 400 to 450 (applications) it used to take us until about 4pm, 4.30pm, now about 1pm, 1.30pm, we would already complete processing," Alves stated yesterday, while adding that no persons would be seen in the shed after 9am and by 8am, any long lines would have already been diminished.
Alves, alluding to stories of persons arriving at the office before day break in order to get a good space in line (and in extreme cases camping out from the night before,) noted that because of the increase in capacity, persons need not travel so early to take care of their applications. There were cases when, by 8am, individuals were asked to return the next day because the immigration office had reached their specified 300-person quota.
"Let the public know that it may not be necessary for them to come here 4 and 5 o clock in the morning. If they come as normal, say 8, 7 o clock, for sure…before we had the additional work stations and when we had the increased number of persons coming, we were only allowed to accept a certain amount of applicants per day. But now, once you come, you will be processed—once you come before 3pm. There's no turning away now," he added.
The period of increase, he referenced, was during the months of March to May, when the institution saw an average of 600 to 700 daily applications.
Decentralisation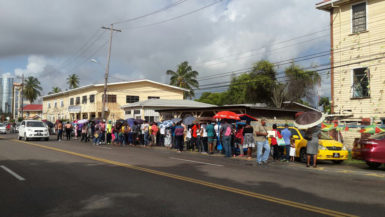 On August 16th, exactly one month after the Minister of Citizenship Winston Felix, announced that passport services would be decentralised to Linden, an office was opened in the town.
As of now, the only processing services currently available in Region 10 are to Lindeners with machine readable passports that have either expired, were damaged, lost, or are filled. Those wishing to apply for new passports still have to do so at the central office in Georgetown, although this is only until work stations can be made available in the location. Alves related that the process is dependent on connectivity in the area.
Setting up an office in Linden was just the first step in a broader plan to have these services available in all major towns, and according to Alves, decentralisation to Anna Regina and New Amsterdam should commence within a month and a half, although no deadline has yet been set.
Around the Web