An afternoon raid yesterday of the Stabroek Bazaar by the city's Food Safety Department (FSD) did not produce the expected numbers of illegally traded items. This is according to City Public Relations Officer (PRO) Debra Lewis.
At about 2pm yesterday Chief Meat and Food Inspector Deonarine Arjune along with several City Constables descended on the Stabroek Bazaar in an attempt to confiscate expired goods being sold for human consumption.
Last week, Stabroek News had reported that vendors in the area were selling copious amounts of expired products. A visit to the area by this newspaper had shown vendors selling products which had expired since May. This newspaper had also learned that the FSD does not regularly visit the area.
When Arjune was asked to respond to these statements he told Stabroek News that though he was aware of the illegalities occurring, he was understaffed.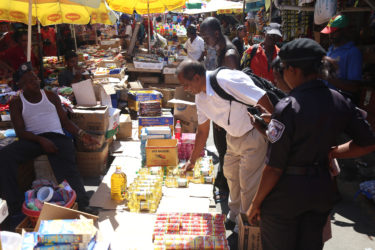 "I have three staff members including myself and persons in that area are generally hostile so we would need to go in with constables or get assistance from the Clerk of Markets. As soon as the see us, they start locking up and moving out," he said.
However, according to vendors with whom this newspaper spoke it was members of the constabulary who warned them that they were about to be raided.
"Them guys call and say dey coming so people done pack up long before they reach," one vendor told Stabroek News.
Despite the warning received, inspector Arjune was able to seize a quantity of cooking oil which had expired as well as several boxes of candy and biscuits.
He also advised vendors on proper storage methods for several of the food products they were selling.
"Many of these products such as the biscuits and sweets really shouldn't be in the sun. The heat melts them and for the biscuits especially the cream becomes rancid. Products such as Corn Curls also have the package melting in the sun and damaging the product inside. We have to be very careful especially as these products are meant for children," he told the vendors.
Meanwhile President of the newly formed Vendors Union has called on its members to both assist City Hall in their efforts at enforcement and demand more effective enforcement from the Municipality.
"Our members are legitimate businessmen and woman who do not engage in the sale of illegal products. In fact those vendors who engage in the sale of expired goods represent unfair competition to those who don't since they sell at a cheaper price which will in turn affect the revenue stream of legitimate vendors," he said adding that it is therefore in the best interest of the union's members for the illegal trade to be severely curbed.
Around the Web