Top officials of oil firm ExxonMobil yesterday cautioned against expectations of a large number of direct employment opportunities to be generated by the company's production activities here, while saying that it will be the government's responsibility to create jobs using revenue that is earned from the operation.
"There are a lot of misconceptions about local content and hiring," ExxonMobil Country Manager Jeff Simons told the media yesterday during an update and discussion session on the current status of the company's Stabroek Block oil venture here.
"The greatest benefit is the revenue stream provided to the country. If job creation is critical, then take some of that money and put it into areas where job creation could be exponential relative to what we are talking about here," Simons added.
He noted that from current oil prices and the company's own financial projections, the venture would yield a profit and significant revenue for the country as the sharing agreement with Guyana provides not only for its recovery of "several billions" of United States dollars but a 50/50 share of the remainder revenues.
He further said that the country would not have to wait for a period before it begins to yield returns since from the first day of oil production, expected to begin by 2020, Guyana would get its half.
Phase 1 of the development of production facilities for petroleum production, estimated to last at least 20 years, has seen the company's employing some 300 locals, most of whom are based onshore, in its staff of 680.
"Some of the bigger things are shore-based," he said, while noting that the company is using the services of John Fernandes and SOL as well as other local suppliers, with security, transportation and food being the areas where a large number are employed.
"We have hotels and houses leased, we are running our operations out of Ogle, waste management—because the waste that comes off of the rig has to be treated appropriately and correctly and so we do that right here on shore—medical and telecoms also. So that is where the 300 people are," he added.
Simons said that up to 2019, the company will be running one drilling rig. "We are staffed right now to run that drilling rig. That is what we do with our local venture office and the support service and contractors that we have. Depending on the outcome on some of the wells that we drill, it is going to depend on if we drill more exploration wells—do we or do we not?—and we are not going to drill development wells until we get closer to actual development out there, in five years from now. So the results of our current drilling are going to drive our intermediate activity level. That is, 'zero rig, one rig or two rigs' but I doubt it will go to two rigs. So it will be zero or one rig until we get out to the point of developing the field where at that point you will pick up one or maybe two rigs," he added.
'No comparison'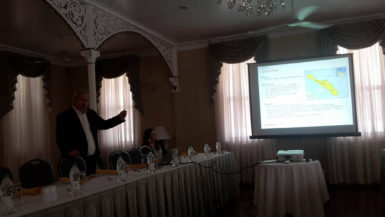 Simons, who noted that the company hopes to meet its 75% to 90% local content goal here, said the actual number of persons needed is not as significant as some expect.
Public and Government Affairs Manager for the company Kimberly Brasington pointed out that daily employment queries are made by the public. "I think that is an important message on this topic because we get a lot of questions about employment—like, 'How can I get hired?' Or, 'How do I know when they are hiring? I want a job, my brother wants a job, my uncle wants a job'—which is human interest and just human nature, but what is really different about this energy industry in Guyana is that it is 120 miles offshore, so the footprint is really small," she said.
"What happens is you compare us to the energy market in Trinidad. We are offshore and have one field and it's huge and it's enormous. One field will be able to produce enough revenue streams for the country for 20 years. Whereas in Trinidad, they have less oil than we have, and thousands of wells, lots of little wells and lots of little pockets of resource. So, while it has a bigger footprint in jobs and the visual—what you see and what you can touch–it is a very different landscape we are talking about here. It is something we struggle with: so many expectations but our footprint is relatively small when it comes to jobs, at least right now with one field and one find and running one ship. It takes 75 people to run that ship and yes while we strive to have local content, it is still maximum 50 to 70 jobs," she added.
Brasington said that while the United States oil giant wants to increase local content, it is going to be relative to the size of the field.
As a result, more employment will depend on whether there are more discoveries, if there is a phase two or if other companies come in and also find oil. But right now they made clear that the workforce is going to look very similar to what is already there, at least through 2019.
Simons stressed that comparing Guyana and Trinidad would be unfair because the two countries are different on many levels.
"Everybody immediately jumps to Trinidad and there has been a lecture about this as well but Trinidad produces less oil than this Liza phase 1…. It produces about 80,000 barrels a day and that is out of thousands of wells. So that is a huge industry drilling all those wells, building all those platforms, building all those pipelines. There are dozens or at least a dozen operators. There is a whole industry around that part, as well as the gas…a lot more than what we are talking about here," he noted.
"The parallels to Trinidad are very, very difficult at this point. We need a huge amount of luck in finding other fields before we could ever get there," he added.
Pointing to ExxonMobil's affiliates in countries worldwide, Simons explained that it would take time for large local content from the company but this does not stop governments from using the revenues garnered to enrich and develop the lives of their people.
He also pointed out that while there might not be direct employment from ExxonMobil, this does not mean that there would not be scope for supporting industries. "All this stuff is super high tech stuff but that is what you do. You hire some helicopter pilots to fly back and forth, some supply vessels that go back and forth, you supply the food and all the basic stuff. You supply the shore base but that's the total scope of Liza-1 only," Simons said.
"It is not what you have been seeing or hearing. Some people are saying thousands and, I'm saying 'Where are they going to work?' I don't have a clue,'" he declared.
Brasington suggested that the reason for expectations for thousands of jobs may be due to the populace's being accustomed to the labour force requirements of the sugar and rice industries. She said, "They employ thousands and that is the point of comparison but in Guyana an offshore oil footprint is a significantly smaller workforce. There are hundreds, not thousands of people. Right now, it's one field, one development."
She added, "What we have seen in other countries like this is that when the revenue streams to the government, then to the country; the government can use it to create jobs and you name it, improvements, infrastructure, schools, hospitals, education and you name it, they are the job creators," she added.
'No refinery'
The company officials also dismissed reports that it will build a refinery here, saying it was not feasible.
"We are not going to build a refinery. It is not in our plans to build a refinery …from an ExxonMobil point of view and from a world point of view, there are not a lot of refineries being built in the world. There is a refining capacity that is available and so it is not typically a very economic thing to do, especially with these kinds of volumes of oil," Simons noted.
With an estimated production of 100,000 barrels per day from the Liza well, the company says that it may look to Petrotrin to sell its oil for refining, given that Trinidad currently brings oil from Africa.
However, there have not been any formal discussions with Petrotrin.
Around the Web