The Commission of Inquiry (CoI) into the welfare of veterans is set to commence today and present heads of the disciplined services along with former Guyana Defence Force (GDF) chiefs of staff would be among the first to be formally interviewed.
This announcement was made by Chairman of the CoI Retired Colonel Desmond Roberts during a press conference held at the Department of Public Service on Waterloo Street, Georgetown, yesterday.
Among the list of persons scheduled to be formally interviewed today are former GDF chiefs of staff Rear Admiral (ret'd) Gary Best and retired Major Generals Norman McLean and Michael Atherley, who will give evidence in-camera due to the potential disclosure of sensitive information.
The CoI was set up to examine the conditions and circumstances facing veterans of the GDF, the Guyana National Service and the Guyana People's Militia.
"It's a very difficult transition period from being in an organised unit for a while and coming out to face an independent life as a civilian, so we don't want to see our veterans on the streets. It happened in several countries where veterans are among majority of the homeless. We do not want to see that in Guyana. We want to provide housing, entrepreneurial opportunities and good jobs if they need it, because they leave at 40 years old, they are still young people," Roberts told reporters.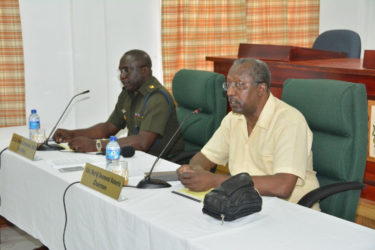 He said the CoI is taking a holistic approach to the issue of veteran benefits, beginning with the promise to provide land to those who have served honourably to the present involvement of all technical and administrative institutions which can assist veterans' transition from active service to retirement.
Requests for memoranda have been sent to several stakeholders and most of them have been also summoned to testify before the CoI.
According to CoI Secretary Col. Denzil Carmichael, so far 34 summons have been sent out to the Joint Services, the
private sector and the private banking institutions. There has also been a sensitisation programme to assist persons in preparing written submissions.
The CoI expects to meet with active members of the services as well as veterans. It will be travelling out of Georgetown to meet with veterans and will visit those who are unable to travel.
Col. Carmichael explained that the commission will be visiting regions One, Two, Five and Six and the main military bases to interact with and get the views of current officers.
Apart from this, it will also be working closely with the Guyana Veterans Legion and the regional offices to reach out to as many veterans as possible, including those in the hinterland.
The Commission will also be hearing from Guyanese veterans living overseas.
Among some of the issues the CoI is expected to examine are the ways in which the Veteran's Home can be improved; the displacement of records of veterans' contributions to the National Insurance Scheme (NIS); and benefits provided to the families of deceased veterans.
In a press release, the CoI said, "We are trying to find the right balance between the operational requirements of military service and the need to prepare active service persons for a life of independent civilians. Many veterans have skills and experience which may compare well with civilian occupations once properly qualified, honoured and given equivalency. Several veterans, especially coaches and trainers, feel that their training and experience could be/have been better utilised."
Around the Web