The Guyana Police Force (GPF) has facilitated reconstructive surgery for one of its members who was shot to the head last year, GINA said.
Victor Faucette, 25, was stationed at the Wisroc Police Outpost when he sustained the serious wound last June.  The policeman was booking an assailant when a confrontation occurred and he was shot in his head by the assailant with his (Faucette's) service revolver.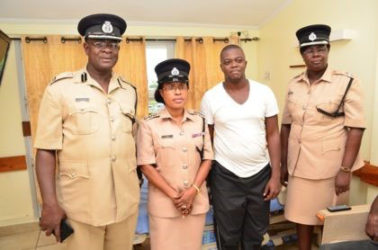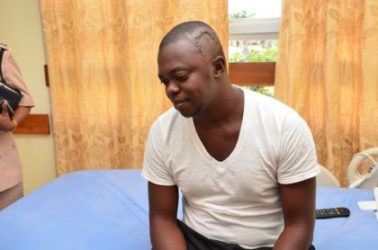 Deputy Superintendent of Police and Welfare Officer of the GPF Loreine Saul, Assistant Commissioner of Operations Christopher Griffith and DSM Maxine Graham paid a courtesy visit to Faucette at the St Joseph Mercy Hospital, Kingston yesterday, GINA said.
Saul disclosed that the reconstructive surgery was offered free of cost.
"The scalp was damaged so he had to do a replacement or temporary scalp to cushion the brain," Saul explained. Faucette further explained that a titanium plate has been implanted in his head to protect the brain. The successful surgery was completed on Saturday, August 28. Faucette said he feels better and is looking forward to returning to duty.
The GPF has absorbed all expenses for Faucette and supports his family as he continues his recovery, Saul said.
Faucette praised the doctors, the GPF and his family and expressed gratitude for their support.
Around the Web