Georgetown Chamber of Commerce and Industry  (GCCI) President Vishnu Doerga says that given the last four years of slumping business, there is need for a shift from revenue dependence on local commodities to value adding.
"…this decline in business started three to four years ago and it coincided with the drop in commodity prices, especially in commodities like rice and sugar," Doerga told a press conference on Tuesday.
"Unless we start treating our rice and sugar like one of these commodities that we want to get more value out of and taking serious actions to making it that way, that is going into more of the packaging, more of the branding, looking at our location our region as a source (as a) competitive advantage, where we can charge more and earn more, we will continue …being at the mercy of global prices," he added.
He pointed to gold, which he said has been on the rebound but noted that unlike rice and sugar the revenues from that sector "doesn't circulate as much in the economy".
The GCCI President thinks that with ExxonMobil's oil find on the Stabroek Block, about 120 miles offshore and with production expected in 2020, the local business community can prepare itself for indirect jobs.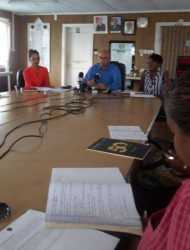 "I think with the oil find that is a silver lining to all of this….Guyana does have a bright future. There is a period to bridge in between where we have to make sure all these activities we are involved in," he asserted, while urging the populace to  "get educated…because if you don't you will see how fast the jobs will go to people who are …get educated in the jobs of the fields of tomorrow."
He said that government is looking at local content and how much service can be provided by Guyanese so that a significant amount of the oil profit remains invested in Guyana.
The Chamber plans to soon compile a list of jobs from some of the service providers to the oil industry, so as to guide persons in the direction of employment opportunities. "The actual oil jobs are less than a thousand…indirectly, that is transportation, hospitality, painting, and fabrication…indirectly it scales up significantly. So we will publish a list so that employees can say 'well I need to be trained in this area because it makes me eligible for a business in that particular area'", he said.
Doerga said that the GCCI has been improving competitiveness here and strengthening small and medium enterprises to increase nontraditional exports.
The Chamber has received financing from the Caribbean Development Bank, under the Cariforum-EU Economic Partnership Agreement to be used towards the development of agro processing, arts and craft and the music industry.
After a series of meetings with local musicians, the Chamber has also incorporated a business support organisation for the musicians and says that capacity building workshops for various sectors will commence in October.
GCCI Executive, Lance Hinds had told this newspaper that the project will, among other things, engage an arts and craft sector consultant to assess the supply capacity and export-readiness of enterprises while conducting market research to identify market opportunities in    the European Union, Cariforum and elsewhere and prepare the arts and craft component of a three-year export development strategy and action plan, reflective of the consensus and needs of the stakeholders.
In the agro-processing sector the project will engage production and marketing consultants to assess the supply capacity and export readiness of enterprises. Additionally, the project will facilitate market research to identify specific regional and extra-regional market opportunities.   Similar services will be provided to the country's music industry.
Micro, small and medium-sized enterprises are also benefiting from the Chamber's support in capacity building though seminars and workshop training.
And in October the GCCI's Security and Governance Committee will be hosting a seminar on Information Technology security.
Later this month there will be a networking event in the form of a wine and food festival on the Marriott Hotel's beachfront that is expected to attract over 300 persons.
Doerga boasted of a 22 percent growth in membership for this year saying that of the Chamber's 181 members 24 joined this year.
Around the Web