Nine more Haitian nationals were yesterday fined by a city magistrate after they pleaded guilty to entering the country illegally.
On Tuesday, four Haitians who entered Guyana illegally by sea were brought before a magistrate where they were charged and fined. Yesterday, nine more were brought to court and were fined $20,000.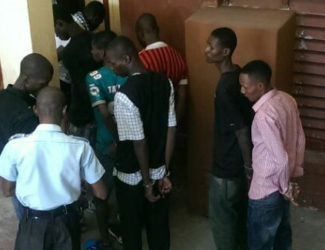 The courtroom of Magistrate Leron Daly heard that on August 29, at Springlands, Corentyne, Feid Elhet Jean, Dominique Patri Homme, Marcus Samuel, Pawel Thomas, Ricot Zulmas, Emmanuel Ollean, Challes Jorrd Jean, Fedlin Jeane and Horat Fedeen, entered the country by sea and disembarked without the consent of an immigration officer.
The defendants, through the aide of a translator, admitted to the charge. Each defendant was subsequently fined $20,000 by the magistrate, with an alternative of 2 weeks imprisonment if the fine cannot be met.
Around the Web