Shemroy Hackett, the man who was arrested after a shootout between bandits and police in the aftermath of a robbery at Enmore on Monday, was yesterday remanded to prison after being read 10 charges, including six counts of armed robbery and two counts of shooting at cops.
Hackett, 27, of 134 Bare Root, East Coast Demerara, was arraigned at the Vigilance Magistrate's Court, where he was read charges for offences that he allegedly committed between July 1st and August 29th.
Hackett, who was arrested on Monday, confessed to robbing an Enmore grocer and other crimes, police have said.
It is alleged that on August 29th, Hackett, at Enmore, East Coast Demerara, being armed with a shotgun, robbed Hamid Ameer Ramlagan of $3,000,000, a .32 Taurus pistol, 15 rounds of .32-calibre ammunition, a quantity of gold jewellery, valued $2,000,000, and a DVR system, worth $200,000, all valued at $5,383,000, which was the property of Maimoon Ramlagan.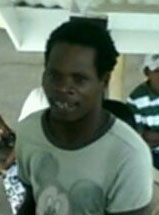 It is alleged that on the same day, Hackett had in his possession a 9mm pistol and 12 matching rounds of ammunition without being the holder of a firearm licence.
It is also alleged that on July 1st, Hackett, in the company of others and armed with a shotgun, robbed Xie Thi Fang of an iPhone 6, a quantity of Digicel and GT&T phone cards and $120,000, all totaling $380,000 in value and the property of Xie Thi Fang.  It is alleged that on July 7th, at Coldingen, Hackett robbed Chen Bi Fen at gun point of items worth $85,000 and also discharged a loaded firearm with intent to maim, disfigure, disable or cause grievous bodily harm to Lance Corporal Hilton Benjamin and Police Constable Mavin Richards, peace officers who were acting in execution of their duties at Bachelor's Adventure, East Coast Demerara.
Meanwhile, it is alleged that on August 24th, at Vryheid's Lust, in the company of others  and armed with a gun, Hackett robbed Elizabeth Lindy of $360,000, which was the property of Cho Fei,  and a cell phone, which was the property of Lindy; Kizziann Windsor, of a cellphone worth $50,000; Sherman Persaud of a cellphone valued at $29,000.
Hackett pleaded not guilty to the weapons charges while he was not required to plead to the other charges after they were read to him by Magistrate Zamilla Ally-Seepaul.
Police Prosecutor Sherlock King, on the issue of bail, said he fears that if Hackett is granted his pre-trial liberty, he will continue to commit more offences on the East Coast. King said though investigations into the matter are incomplete, officers are working on it.
Hackett, who addressed the court, told the magistrate that he had been previously charged with robbery, but the matter was dismissed due to lack of evidence, and drug possession, for which he eventually paid a fine.
Magistrate Ally-Seepaul, who refused bail, told the court that since the matters occurred in different jurisdictions along the East Coast, they would be divided. Offences which were allegedly committed near to Cove and John, were adjourned until October 19th, when they would be called at the Cove and John Magistrate's Court; offences allegedly committed near Vigilance were adjourned until September 30th, when they would be heard at the Vigilance Magistrate's Court; and offences allegedly committed near Sparendaam were adjourned until October 13th, when they would called at the Sparendaam Magistrate's Court.
Hackett was subsequently remanded to prison.
Hackett was arrested after police said a group of masked men robbed a grocer at Enmore, East Coast Demerara. According to a police statement, the men carted off a quantity of valuables and made good their escape from the premises, after which they hijacked a car and proceeded in the vicinity of Bare Root.  "They were then observed by ranks of two police patrols acting in a suspicious manner and upon realizing that they had attracted the attention of the police, they opened fire on the patrols, abandoned the motor car and fled to the backlands of Bare Root," the police said.
The men were pursued and Hackett was arrested with an unlicensed pistol and twelve matching rounds, whilst the remainder managed to escape, police added.
Around the Web