The Central Housing and Planning Authority (CH&PA) has objected to a decision by the city administration to allow the construction of a seventh floor at a building on the south eastern part of Camp and Robb streets.
In a letter dated August 29, which was seen by Stabroek News, CH&PA reminds the city's chief administrative officer, Town Clerk Royston King that no approval should have been given to the owner of the building for the addition without first seeking approval from CH&PA.
In the correspondence the authority references a letter sent by King to owner of the building, Rizwan Khan in which he states that "The matter has been reviewed by the relevant agencies, which have statutory responsibility for such works and related activities…As a result the Mayor and City Council offers no objection to the addition of a seventh storey to the building at Lot 102 Robb and Camp streets, Georgetown".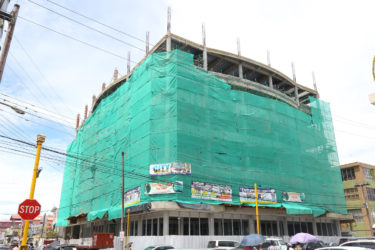 Acting Chief Planner at CH&PA Fayola Azore who wrote King on behalf of the authority took issue with the statement that "the matter has been reviewed by the relevant agencies" stating that the relevant agencies would have included the CH&PA but they were never contacted about the addition through established protocols.
"We wish to remind you [King] that under the Town and Country Planning Act, the City Council is legally bound to submit all applications and proposals of the development for their [CH&PA] permission or prohibition as the case may be. This provision has not been compiled with by your office," the letter states.
It further notes that the permission granted is a violation of a High Court order which granted CH&PA an injunction restraining Khan from proceeding with the construction of a seventh floor.
According to the letter, "The City Engineer Department is fully aware of this injunctive order and yet in contempt of the High Court's order, you are permitting the owner to proceed with his construction works in clear violation of the High Court's order."
Azore then directs the city to submit all relevant documents and their analysis to CH&PA for the matter to be finalized if it is the determination of its engineering department that "sufficient documentation has been submitted to support the addition of an additional floor."
Around the Web