President David Granger last evening extolled the virtues of a proposed administrative body in place year-round to ensure that the decisions of the National Toshaos Council (NTC) are properly implemented.
The body which was first proposed by the president at the opening of the 10th annual NTC Conference last month is expected to fill the administrative gap which exists between village level administration and the ministerial level.
Delivering the feature address at the Ceremonial launch of Indigenous Heritage Month yesterday at the Sophia Exhibition Centre, the president said that the proposed National Indigenous Peoples Authority (NIPA) will have the human resources, administrative apparatus and financial clout to ensure decisions made by the NTC are implemented. It will be supported by a planning unit within the Ministry of Indigenous Peoples Affairs and even before the financial year starts can be designing  plans to ensure communities are given what they need to development.
He reminded those gathered at the Sophia Exhibition Centre, that coastal villages are supported by Neighbourhood Democratic Councils (NDC) which are in turn supported by Regional Democratic Councils (RDC) and the Ministry of Communities.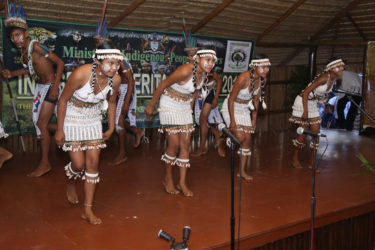 "These Councils operate every day and the ministry is in constant contact with them. [NIPA] Will ensure NTC and National Assembly decisions made through the Ministry of Indigenous Affairs are implemented… it will strengthen both the ministry and NTC," he said stressing that "implementation is the muscle of progress and intentions will remain mere words without implementation."
Invoking the month's theme of "Our culture, Earth's Future: Save the Environment, Live the Indigenous Way", President Granger told his audience that "culture will be under threat unless we have the apparatus and mechanism to ensure communities are prosperous. If they are weak and vulnerable culture will suffer. If we are to ensure culture is protected preserved and propagated we have to create the mechanism for so doing."
He said he is  awaiting the findings of the NTC and advice of the ministry on the way forward even as he reiterated that the proposed governance structure is important for strengthening the administration of Indigenous Peoples Affairs in Guyana.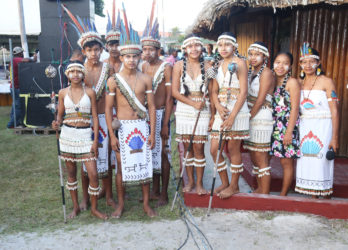 Meanwhile, Minister of Indigenous People's Affairs Sydney Allicock told those gathered that the theme of this month's celebration is apt.
The indigenous way of life, he said, is about knowledge and understanding of natural laws so that coexistence with other life forms is possible; a tenet that is becoming more recognized as the world moves toward sustainable development.
He encouraged the indigenous peoples to help in educating others about their culture and way of life.
"We must first understand before we pronounce on a culture. It is necessary for indigenous people to educate the nation on who they are historically and futuristically. Misunderstanding comes from not being as known as we could be so we have a lot to do to help in educating others about the culture and way of life," he said.
According to the Minister the governments go green initiative which fits snugly into their lifestyle is a great opportunity to develop their communities through various agricultural pursuits as well as eco-tourism.
"Let us continue to look for opportunity to invest, develop, nurture and benefit from economic ventures which are sustainable. Let us take the time to remember those who have gone before us; those who worked so hard to keep our environment intact; those who are here making that effort to continue that process and those yet to come. We need to plan how we will leave a legacy for those persons," he implored.
Around the Web