Dwayne King, who was accused by his United Kingdom-based Guyanese girlfriend of setting her up with cocaine found in rum bottles she was trying to take out of the country, was yesterday found guilty of drug trafficking and sentenced to 60 months in jail.
King, 33, of 165 Stanleytown, West Bank Demerara, was charged on November 20th, 2015 with attempting to smuggle 2.9 kilogrammes of cocaine at the Cheddi Jagan International Airport (CJIA).
He was implicated by his then girlfriend Vanessa Moore, who was also charged with the crime.
Moore was arrested at the CJIA after she was found with cocaine concealed in two bottles of El Dorado rum. Investigations later revealed that Moore had been in the company of King before she was apprehended and that the defendant had fled after the drugs were discovered. Moore had said that she had been given the two bottles of rum by King, who had asked her to deliver them to a friend in London.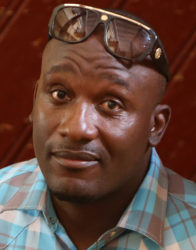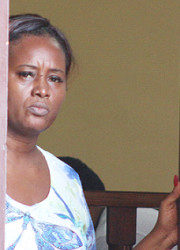 On November 17th, King had turned himself in to the police in the presence of his attorney.
At the conclusion of his trial yesterday, Magistrate Judy Latchman said she reached her decision based on the evidence presented by the prosecution's eight witnesses, including Moore.
The magistrate said she believed that King had access to the rum, despite his denials, and had sufficient time to place the drugs into the bottles. She said too that she believed that King used Moore and gained her trust so that she could smuggle the drugs out of the country for him.
After the guilty verdict was handed down, King's attorney, George Thomas, in mitigation, asked the court to consider the fact that his client is a first time offender and his age.
Prior to sentencing, Magistrate Latchman stated that she took into consideration the manner in which the drugs were concealed, the manner in which the defendant attempted to smuggle the drugs, the prevalence of the offence and the need to prohibit others from committing the said offence.
King was subsequently sentenced to 60 months imprisonment and fined $30,000.
Around the Web