Following the execution-style killing of Mark Anthony, 22, in North Ruimveldt on Thursday evening, both investigators and his family are so far baffled about a motive.
Anthony, called 'QQ", of Lot 1238 Canje Pheasant Lane, South Ruimveldt Park, Georgetown, was liming with his friends when he was gunned down.
Anthony sustained several gunshot wounds about his body and was transported to the Georgetown Public Hospital, where he was pronounced dead on arrival.
Stabroek News was told that the shooting occurred around 8.30pm as Anthony was liming with a group of men under a shed.
He was confronted by two gunmen, who fired several shots in his direction. He tried to escape through a shortcut but the gunmen chased behind him and continuously fired.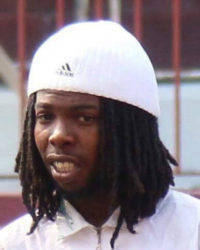 He then ran into a yard and jumped over a fence into an abandoned yard, where he collapsed. The gunmen then made good their escape.
Acting Crime Chief Hugh Jessemy told Stabroek News that the murder is being treated as an execution-style killing, since there were no attempts to rob Anthony. He said while the motive for the shooting was unclear up to late yesterday afternoon, investigators are currently on the hunt for one person.
When Stabroek News visited the scene yesterday, a number of detectives and plain clothes officers were seen taking statements from residents.
"Everything happen so sudden and fast like I left stupid," a woman, who operates a shop in the area, told Stabroek News.
She said she had closed her business for the day and was in her house watching television when she heard the sounds of gunshots. "All I hear is 'Bam! Bam!' And I just stay inside," she said.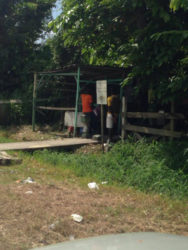 While another resident, into whose yard Anthony had run while being chased by the gunmen, said she and her family were indoors when she heard rapid gunfire. "Me and all my family lay down flat in the house and didn't make a sound. Is when one of my brother decide to peep out he say he see Anthony crawling like on the ground and they just shooing he more," she explained.
The woman said after the gunmen escaped, she called a taxi, which transported Anthony to the hospital.
The dead man's sister, Malika Wilson, told Stabroek News that she was told by a relative that "some guys on a motorbike shoot he up."
Wilson said she was not aware of Anthony having any issue with anyone that could have led to his death. She said she learnt that only Thursday afternoon he had related to his friends during a conversation that he had no issues with anyone. "I am not sure who did it or why they would want to do it," she declared.
Anthony was one of four men who were charged last year December with illegal possession of guns and ammunition.
Anthony, Andrew Davis-Escott, Brian Escott and Lance Corporal Aaron Eastman were accused of carrying an unlicensed sawn-off pump action shotgun with matching rounds and an unlicensed .32 revolver with matching rounds, on December 5th, 2015, at Robb Street. The matter was tried in a city court and in April this year Anthony was one of the two accused that were freed of the charges due to insufficient evidence.
Around the Web