A man was killed during the wee hours of yesterday morning after he was hit by an out of control car driven by an alleged drunk driver along with Industry Railway Embankment, East Coast Demerara.
Osmond Griffith, 40,    of Hadfield Street, Georgetown, sustained severe injuries, including a broken neck.
He was transported to the Georgetown Public Hospital, where he was declared dead on arrival. Stabroek News was told that Griffith was a passenger of car, PJJ 8028, but requested that the driver to stop in order for him to urine.
Soon after, a taxi, bearing licence plate HC 4399, was proceeding west along the embankment road.
The taxi driver reportedly lost control of the car and struck PJJ 8028 before hitting Griffith, who was standing at the corner of the road. He was pitched some 20 ft. away.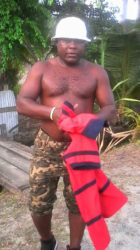 Traffic Chief Deon Moore told Stabroek News that the driver, who was above the legal limit in respect of consumption of alcohol, was taken into custody.
Griffith's partner, Fidela Duncan, said she was at home when she received a call informing her that he was involved in an accident and had been taken to the hospital.
The woman said she immediately left for the hospital but when she arrived there he was already dead.
It was unclear to her where he was heading at the time he met his demise.
Griffith was said to be the main witness in the trial of PPP members Kwame McCoy and Jason Abdulla as well as former bodyguard Shawn Hinds, who are accused of dousing newspaper columnist and activist Freddie Kissoon with faeces during an attack in 2010.
The men were charged in February this year and the trial is currently ongoing. Griffith had not testified up to the last hearing.
The attack on Kissoon occurred near Nigel's Supermarket.
Kissoon had stated that he had just returned to his car after an unplanned stop at the supermarket, when a "very squatty guy" threw a bowl of pungent human faeces directly into his face.
Kissoon, who was already in his vehicle, related that he chased the man to the vicinity of the Merriman Mall, where he fled in a waiting white car.
Around the Web