Ashraf Ally, known locally as the 'River Conqueror,' once again successfully swam across the Berbice River yesterday.
Ally, an overseas-based Guyanese originally from Canefield, East Canje Berbice, first swam across the Berbice River in 1979. Now, 70, he completed the crossing yesterday in under 40 minutes.
Ally was all smiles as he entered the water. After completing the journey, he told Stabroek News, "It felt like a simple exercise. I could do this for hours."
Cheering him on before he entered the water were his family, close friends and just under two dozen spectators, including Regional Chairman David Armogan and Commander of 'B' Division Ian Amsterdam.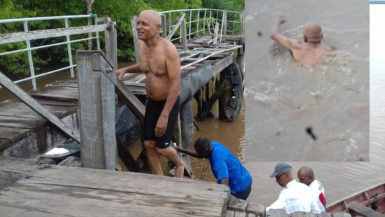 Ally swam the Berbice River yesterday as a "warm up" for his big swim across the Essequibo River tomorrow.
Ally, a former student of the Berbice High School, plans to successfully undertake the task of swimming across the Essequibo River in celebration of Berbice High School's 100 year anniversary. He also explained that he will be swimming to pay his dues to Guyana's 50th independence anniversary as well.
Ally yesterday joked about the dangerous reptiles that he may have to face in the Essequibo River, since he will not be swimming with any protective gear. "I will have to battle them," he said.
Ally is a former head of the Science Department at the Canje Secondary School. He graduated from the Berbice High School in 1967. The father of two now resides in United States. After swimming across the Berbice River in 1979, in 1998 he swam across the river that leads from Skeldon to Nickerie, Suriname. In 1999, he swam the Demerara River. He has also swam Lake Mainstay twice already. (Bebi Oosman)
Around the Web