A 48-year-old woman was found lying on her kitchen floor with stab wounds just before dusk yesterday and police have since taken a relative into custody.
The dead woman is Anita Mohan called `Sandra', 48, a vendor of 315 South East Cummings Lodge, Greater Georgetown.
The woman was discovered by her son Intiaz Khan, 27, who had return-ed from work shortly after 5pm.
When Stabroek News arrived on the scene, scores of neighbours stood outside of the yard expressing  shock at the murder and police had cordoned off the scene.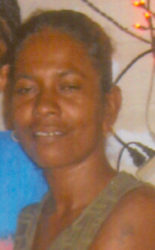 Neighbours reported that music was being played in the house and as result they did not hear any strange sounds.
Khan, last evening said that he returned home after work and found his mother's lifeless body in a pool of blood.  He said when he found his mother in the kitchen it appeared as if she had been murdered some time earlier. "The blood already dried up on her skin," he lamented.
He added that the house had been ransacked but he could not verify if anything had been stolen. The son said upon the discovery he raised an alarm with his aunt and uncle who live across the road and later summoned the police. As the news spread, neighbours rushed to the scene.
One woman told Stabroek News that around 3 pm she passed and saw "Sandra in the yard and I called on her and she answered me." She also stated that music was playing at the same time.  The woman also said that when she saw the dead vendor she was lying in front of the refrigerator and saw a stab wound on her face.
Mohan lived at the house with her son and a nephew. The nephew has been taken into custody.  The son told Stabroek News that he does not believe the cousin could have had anything to do with the murder since they grew up together in the same house. The nephew has reportedly said that he was tending to the family's cattle around 3 pm.
The nephew while in handcuffs told the police that he is innocent and they should pursue another suspect. The nephew added that a man went to the house a few days ago and made threats against his aunt. He stated that they made three reports at the police station but nothing was done.
Meanwhile, other neighbours expressed shock at the death of the "greens vendor" who they described as a caring individual. Neighbours said they could have always gone to the house and spoken with the woman and she would offer her advice to them. They pointed out that the woman was a hardworking individual as she would walk and sell vegetables in the community.
The woman is survived by her son, mother, siblings and other relatives. Police investigations are continuing.
Around the Web