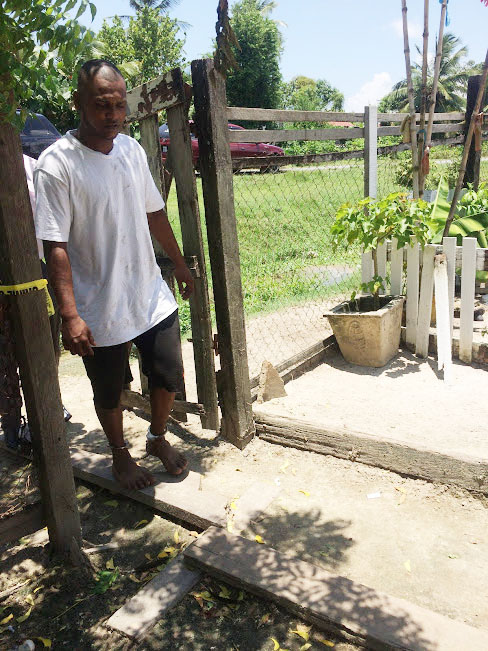 The police last night said that a suspect in Sunday's murder of Cummings Lodge woman, Anita Mohan has confessed and they are now in search of an accomplice.
In a statement the police said that they are already in the process of seeking legal advice on the matter.
The police did not name the suspect. However, the family of Mohan, believes that a nephew who has been arrested by the police may have played a part in her death despite his maintaining his innocence. 
Mohan, called 'Sandra,' 48, a vendor of 315 South East Cummings Lodge, Greater Georgetown, was found by her son, Imtiaz Khan, lying on her kitchen floor with stab wounds about her upper body.
Her nephew, Azad Ally 22, was the last person seen in the company of the woman.
Khan told reporters he found his mother lying in a pool of blood with several stab wounds to her neck. He also said his mother's head was bashed in.
Ally, known as "Chucky," revisited the scene with investigators yesterday and declared his innocence again when family members asked him what happened. "Why would I want to kill meh auntie who had my back…? Nani (calling to his grandmother) meh didn't do it…," he said loudly, while trying to convince his family of his innocence.
On Sunday night at the scene, while in handcuffs, he had made similar statements.
He told investigators that between 3pm and 4 pm on Sunday afternoon, he went and tended to the family's cattle and had no knowledge of the woman's death.
However, family members do not seem to believe his story since a man in the community reported that he heard Ally and Mohan quarreling.
Family members also said that he often gets into fights. "Every time he goes out, he always get into a fight," said an aunt.
Ally currently has a domestic violence matter before the court.
Ally was brought up by Mohan from the age of three after his mother died. After a common-law relationship that he was in did not work out, he moved back to his aunt's Cummings Lodge home over a month ago. 
Rosita Sarabjeet, Mohan's sister, told Stabroek News that Ally's actions, prior to his being arrested, have led the family to  believe that he was involved in the crime. She said after the discovery of Mohan's body, he was alerted while sleeping over at his grandmother's residence but did not respond immediately. "He was playing asleep and when he get up he na come to see what happened he just asking we, 'wa happen?' And when we tell him, he pick up a cutlass and run up the road and said is the same man that threaten to kill the family," the sister recounted.
Additionally, the family members stated that when they searched for Ally's bag with his clothing and other belongings, they could not find it. They said they found a pair of pants he was wearing during the morning hours on Sunday hanging on the clothes line and it was wet. This has raised some suspicions in the minds of family members since it is not usual for Ally to wash clothes.
While in handcuffs on Sunday night, Ally told the police that he is innocent and they should pursue another suspect. The nephew added that a man went to the house a few days ago and made threats against his aunt. He stated that they made three reports at the police station but nothing was done.
When Stabroek News asked Sarabjeet about the claim, she confirmed hearing him relating to Mohan that he was attacked by six men, who made the threats, and he had reported it. However, after nothing was done, Mohan took him to the Turkeyen Police Station and made another report but the police did not respond and explained there was no vehicle present.
However, acting Commander of 'C' Division Paul Williams told Stabroek News there are no reports in the police's records.  He explained that the police only became aware of the allegations when it was mentioned by the suspect during their investigation.
Breadwinner
Evelyn Khemraj, Mohan's mother, told Stabroek News that not only has she lost her eldest daughter but she also lost her breadwinner. The woman said her daughter didn't deserve such a death.  She noted that Mohan worked hard and did not have much, but she would give anybody whatever little she could,
Sarabjeet added that Mohan would at times contribute to her granddaughter's welfare. "She is our breadwinner. There is not a day when I don't go to her for help and she don't help me. She always here looking out for us… she is our breadwinner," the sister stated.
Other friends who gathered at Mohan's house yesterday recalled her as the 'mother of the village.' One man said he lives in Vryheid's Lust but would often find himself at her home because she treated him like a mother would and looked out for him. "This lady was good to everybody," he said.
Neighbours said they could have always gone to the house and spoken with her and she would offer her advice to them. They too pointed out that she was a hardworking individual and recalled her walking and selling vegetables in the community.
Around the Web