Months after receiving an award for Best Male Gospel Artist at this year's Guyana Music Awards, singer-songwriter Samuel Medas has been nominated for the Caribbean Gospel Music Marlin Awards in seven categories.
The Marlin Awards, launched in 1996, is produced bi-annually by a marketing, media and production firm operating out of The Bahamas and nominees are selected by a panel of industry professionals.
Medas, the founder of Comfort Zone Entertainment, a local record label, received nominations in the categories of Song of the Year, for his single 'Love Letter from Heaven;' Album of the Year, for his album 'Ink of Intimacy;' Praise and Worship Recording of the Year, for his song 'Never Leave;' Reggae Performance of the Year, for single 'The Truth;' Soca Duo Vocal Performance of the Year for the track 'They Don't Know;' Contemporary Vocal Performance of the Year;  and lastly, but in Medas' estimation, most significantly, a nomination for New Artist of the Year.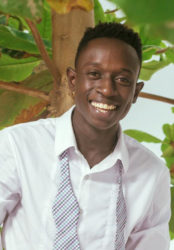 The singer-songwriter related to Stabroek News that he was in disbelief when he saw that he had been nominated in the range of categories, given the pool of other great Caribbean artists he was up against. He also stated that he had had some challenges with getting his material to The Bahamas in time for the selection.
But timing, Medas believes, has a lot to do with purpose, and that is the driving force behind his music ministry. "Purpose is the reason for the timing and place of a person's existence. Knowing that I was born to reach and inspire, and introduce people to the love and hope of Jesus through music has helped me to be focused," he said.
Medas, who describes himself as a "country boy at heart," is fortunate enough that he can make music his career. So far, he has produced three albums—'Heart to Heart,' 'This Peculiar Journey' and 'Ink of Intimacy'—and performances often take him overseas, where he says he is always well received by patrons.
His record label, which bears the tag line, "Find it. Relax. Create. Share," speaks to the creation of an environment where creativity can flow freely.
"I have the privilege of working with some of the most amazing young musical geniuses in Guyana—vocal coaches, vocalists, arrangers, engineers, musicians," Medas stated. "Most of my life revolves around music. I just got married back in April, so now my wife has opened a whole new aspect of life for me. The people I work with also happen to be …friends, so fun is work, and work is fun," he added.
Around the Web