The Berbice High School (BHS) yesterday celebrated 100 years of existence under the theme 'Seizing the opportunity to train and build a cohesive society'.
A week of activities was held and yesterday's celebration saw the attendance of the President of Guyana, David Granger, First Lady Sandra Granger, Minister of Education, Dr Rupert Roopnaraine, Junior Minister of Education, Nicolette Henry, Minister of Social Cohesion, Amna Ally and  Regional Chairman, David Armogan among other top officials.
The president during his feature address opined that the Berbice High School embodies the importance of family, religion and education.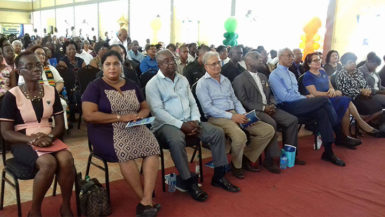 He stated that the school was the first high school to be founded in the county of Berbice.
"For 100 years it has remained a leader in secondary education …BHS unlocked the doors that were previously closed to poor people. It unveiled the potential for students to improve themselves, it unfolded new opportunities for them in society", the president said. Granger highlighted that the Berbice High School is one of the three high schools in the region that attained the category of A Grade.
"BHS emerged as the best performing school in the region at the June 2016 sitting of the Caribbean Secondary Education Certificate Examination … two of the students were among the top national performers", he said, adding that students ought to be proud of the institution.
He stressed that the school must embrace innovation. "This is the driver of global competitiveness … Guyana's capacity to compete in the global market will rely on our ability to innovate", he noted. According to the president, innovation requires that greater emphasis be placed on education.
 "The greatest innovation in the global economy is in the scientific and information technology fields", Granger said, after which he donated a total of $1M to the Berbice High School to assist with renovating its computer laboratory.
Tracey Heyligar, the head mistress of the Berbice High School during her speech, highlighted that "At this school the emphasis is placed on the whole person's development …" She said that this method of education with the utilization of information technology along with a variety of other teaching strategies has been the main reason for Berbice High School to be the top school in Region Six".
Around the Web