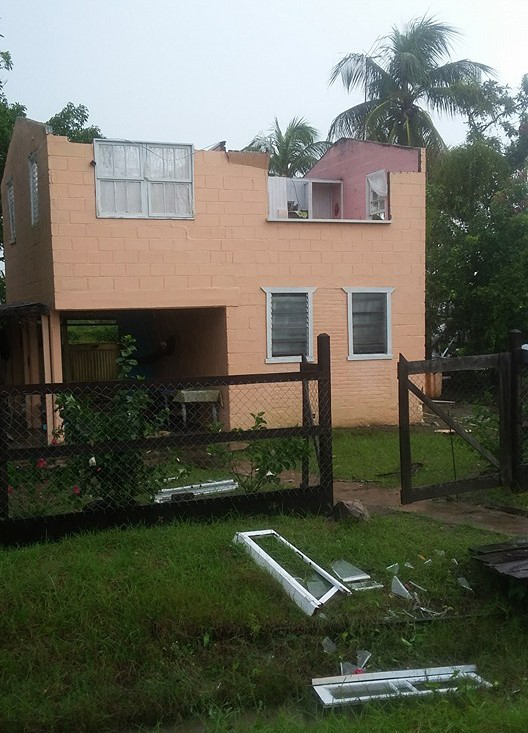 A freak storm on Sunday afternoon damaged 13 homes, uprooted trees and caused a blackout at Blenheim, Leguan, where some residents say they need help to do repairs.
Bibi Shaheeda Mohamed told Stabroek News that the roof on one side of her house was ripped off and flung on the road, while the top of her outdoor bathroom and the zinc shed on the eastern side of were also blown off during the storm on the Essequibo River island, which occurred around 2.45pm.
The woman, who works as a security guard, said her furniture as well as her television set and other electrical appliances, which got wet after her house was exposed to the rain, were also damaged.
Everything is still exposed because she cannot afford to rebuild and she is now seeking the assistance of the government.
Mohamed, who is currently staying with relatives, recalled that she had just returned home from work and was sitting outside when the "breeze start pick everything up and blowing them all over the place."
She got scared and went into the kitchen, located in the lower flat of her house, and closed the door. She continued to hear loud crashing sounds and peeped out a few times and saw objects flying about.
About 10 to 15 minutes later, when everything calmed, down she ventured outside only to discover the destruction that was done to her house and those nearby.
By then many residents came out onto the street to examine the damage and to lend support. A utility pole snapped and was left lying flat across the road and the entire area on the eastern side of the island was plunged into darkness.
Yesterday, workers from the Guyana Power & Light Inc. were busy trying to restore electricity to the area.
The house that suffered the most damage belongs to a widow, Mohandai, 61, and she was thankful that she was not at home at the time.
The entire roof of her concrete house was ripped off and her windows were shattered. The rain also soaked her furniture as well as her fridge, television and fan and she was afraid that they may not be able to work again.
Another resident, Rovina Hayman, told this newspaper that a few of her zinc sheets were blown off from her roof. She said everything happened so fast and that she was still traumatised.
She recalled that she was outside with her husband and two sons and their friend when the "hard breeze" and the rain came suddenly.
She and her husband went inside to safety but the boys remained outside and watched as trees were uprooted and a few zinc sheets were sent flying in the air and folding up as they landed.
Another resident recounted that the breeze came "light at first" and within a few seconds it got stronger and she was not prepared for what happened next.
She watched in fright and was "trembling" as zinc sheets from her neighbours' house blew off and ended up in her yard.
She also noticed the stage and shed in the mandir compound crashing down and zinc sheets from the building flying off. According to her, a "circle breeze came and finished within four minutes."
Vice-Chairman of Region Three Mohamed Inshan, who hails from Leguan, was on the island when the destruction took place.
He told Stabroek News that the roof of the doctors' quarters was also destroyed and later in the evening they were working to rebuild it.
Around the Web