A porter is now dead and a driver is hospitalised in a critical condition after the truck they were travelling in reportedly slammed into another truck along the Providence Public Road, East Bank Demerara, yesterday morning.
Dhanraj Datturam, 51, a porter, and Munir Mohamed, a driver, of Lot 146 Marshon Street, Annandale, East Coast Demerara, were driving along the East Bank Public Road when their vehicle, a truck, bearing licence plate GGG 645, slammed into the trailer of a truck, GSS 1687, which was said to have been parked in front the National Stadium.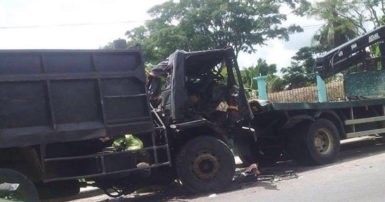 Datturam was pinned down in the vehicle and the Guyana Fire Service had to be summoned to help free his body.
Both the men were transported to the George-town Public Hospital, where Datturam was pronounced dead and Mohamed was admitted as a patient. He sustained several injuries about his body and up to press time doctors were preparing to operate on him.
At the time of the accident, which occurred around 4.30am, Mohamed was the driver of GGG 645 and Datturam was seated in the passenger seat.
They were proceeding south along the East Bank Public Road when they slammed into the other truck, GSS 1687, which was loaded with cement at the time.
Speaking to this newspaper yesterday, Munir's brother, Zameer Mohammed, the owner of the truck he was driving, said since the accident he has been hearing various versions on what transpired but the only version he believes is what was told to him by his brother. "He told me that they were travelling on the road and the lorry drive pass them and overtake in a speed and he mash a hard brakes when he slammed into the lorry," Zameer said.
This newspaper understands that Datturam started to live with the Mohammeds a number of years ago following the death of his mother. He has been employed with them for over 20 years.
Around the Web