Following a meeting between the Guyana Press Association (GPA) and the management of state broadcaster National Communications Network (NCN), journalist Natasha Smith, who was reportedly pulled off air because of her pregnancy, has agreed to resume anchoring duties, while a call has been made for the agency's board and the Office of the Prime Minister to look into its operations.
Following a meeting with NCN's management, where Chief Executive Officer (CEO) Lennox Cornette maintained that he did not issue any directive to replace Smith due to her pregnancy, the GPA called for the intervention of the NCN Board and the Office of the Prime Minister.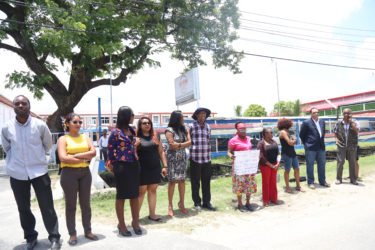 "As the state broadcaster, which is heavily funded by taxpayers, NCN has an obligation to uphold the highest tenets of industrial relations practices, including providing equal opportunity and ensuring freedom from harassment, intimidation and discrimination," it said in a statement.
It was noted that the GPA managed to secure minutes of a management meeting that indicated that the CEO asked that a "tight shot" be used to "remedy the view" of Smith.
The GPA added that following that discussion, the CEO recommended that Smith be replaced. "All the senior executives of NCN that the GPA has spoken with have said they understood Mr Cornette to be speaking of Ms Smith's pregnancy and that decision was communicated to her," it added.
However, it said Cornette denied that he issued any such directive and the GPA was able to secure his undertaking to have Smith returned to the anchor chair with immediate effect.
Following the meeting, the GPA added, Smith indicated that the Human Resources Manager Tishika De Costa approached her and apologised, and asked her to return to anchoring. It said Smith has indicated to the GPA that she is ready to do so.
Smith had previously declined a directive to allow her to continue to read the news until she proceeds on maternity leave due to the stress of the events surrounding her being taken off air.
In an invited comment, Smith told Stabroek News yesterday, "I'm relieved that the matter has been resolved and the truth has been exposed." She is expected to resume anchoring duties today.
The GPA was represented at the meeting by President Neil Marks, Secretary Iva Wharton, Assistant Secretary/Treasurer Fareeza Haniff and Executive Member Nazima Raghubir.
Protest
Meanwhile, prior to the meeting, members of the GPA as well as civil society staged a protest outside the compound of NCN, on Homestretch Avenue, against Smith's removal from the anchor's chair.
During the protest, staff of NCN stood inside the compound and looked on and did not act on calls made by executives of the GPA to join in the protest action.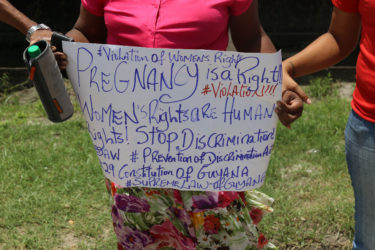 Nicole Cole, a women's rights activist and a member of the Women and Gender Equality Commission, said the management of NCN has trampled on the rights of women by making a decision to relieve a female worker of her duties because she is pregnant. "She has a right to be pregnant. And he [the CEO] doesn't like how she looks? Then close your eyes and go to sleep during that period," she said.
Raghubir, who joined the protest, said despite the association not being a union, it still represents the rights of journalists in Guyana. She was hopeful that the actions demonstrated would have led to a positive outcome.
Ajay Baksh, a former editor at NCN and a public relations consultant, who supported the protest, added, "I think it is despicable. I mean, in this day and age where you have a young woman being told that she cannot pursue her profession or career—which she has been doing fine at. I don't see any problem with her, I don't think anybody has had a problem with her and her professional attitude to her job. But being told, just because she is pregnant, from all reports, that's the reason she cannot be on air…."
According to Baksh, while he was an editor at the state-owned company, there had been pregnant anchors before and there was never a problem with that. "I mean, one has to wonder if these gentlemen are born of mothers or did they come out of another office," he said.
Baksh noted that he hopes that some strong action will be taken against the CEO and the rest of the management team that supported his reported directive to ensure there is no recurrence.
Also on the picket line was Lincoln Lewis, of the Guyana Trades Union Congress (GTUC), who noted that the management of NCN did not say to the public why Smith was removed.
"You can't be doing that. It has come a time that somebody at some level has to make a decision and give instructions to NCN, because if the policy of the government is not to discriminate, the time has come that you gotta tell them, very clear, it's discrimination. And if the community, the fourth and the fifth estate—the fourth estate is the media, the fifth estate is the trade union movement—if you don't come together and do something, the state agency is going to continue in this manner," he said.
"These are things that are enshrined in the constitution of this country and you cannot allow people to—any organisation, any person—to violate the constitution and transgress the rights of any individual. A position has to be taken," he added.
Michael McGarrell, an activist and a member of the Amerindian People's Association, was also part of the protest and he too spoke out against discrimination against pregnant women.
"As human beings, we have a responsibility to our women, as men especially, we have a responsibility to protect our women and to show that being pregnant is just a normal activity. When I heard about this, what came to mind is that we are people and all of us came out of vaginas—well, some of us may have come through caesarian section," he said.
"Men cannot understand and if men are going to use that to discriminate against women then it's totally wrong," he added.
Around the Web