The Buxton man who was stabbed on Monday  by his child's mother and is currently in a stable condition in hospital, says it wasn't the first time that the woman had attacked him and whenever he had reported the incidents to the police they would not take him seriously.
"I don't remember everything cause I de pass out after but from what I remember is that I was drinking with me girl at her relative house and she [his child's mother] and her sister come up to the yard and start mek a whole set of noise," the 31-year-old Paul Kelman related to Stabroek News yesterday.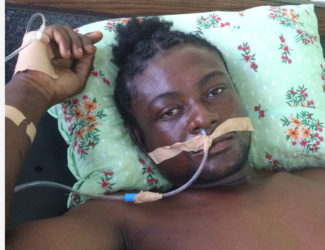 He said he subsequently took the two women outside of the yard onto the road to calm them down when the incident happened. "I try to calm them cause I didn't even know why they come here arguing when she just pull out a knife and push it in me stomach," the man said.
"After I get stab and I grab me belly and look down I see something white and so I quickly tek off me shirt and strap it," he added, stating that subsequently after he wrapped the wound he wobbled his way back to the yard where he collapsed and called out to his girlfriend to call a taxi to transport him to the hospital.
He was rushed to the hospital where he was admitted. He is currently in the male surgical ward
Kelman related that it was not the first time that the woman had attacked him. Displaying a scar on the left side of his face to Stabroek News, Kelman recalled the time, several years ago when the woman had attacked him.
"Is not the first time and when I went to the police with my sister and all the police them there [at the Vigilance Police Station] just laugh at me and they never take me serious," the man related. He explained that even though he and the woman share a four-year-old child, he had ended the relationship some eight months ago but the woman has still been a thorn in his side.
"She does even go at my mother house and start to buse up and thing and when you report all of that to the police nothing does happen," the man related.
While Kelman stated that he was unsure why the woman would've wanted to stab him since he was not in her way and had moved on, he recalled seeing her sister armed with a knife too. "It's like they come with a plan to do something to me," the man said.
The woman has not been arrested as yet and the police are currently searching for her.
Around the Web