A teenager from West Berbice has left his family in a state of shock after he took his own life on Tuesday after a drinking spree.
Yougram Bladesh was discovered around 20:30 hrs dangling from a rope in the verandah of his home in Blairmont, West Berbice.
Sadit Persaud, the teen's mother told Stabroek News that her son's behaviour had changed a short while before the incident. According to her the teen was acting stranger than usual. Persaud said her son went about his routine as normal on Tuesday. She explained he went to work, returned him and then left to have a few drinks with his friends at a local bar in Bath Settlement.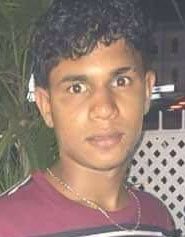 The grieving mother with tears in her eyes explained to Stabroek News that he returned home highly intoxicated and wanted to play music at a loud volume. However, she said she repeatedly asked him to lower the volume but he refused. Subsequently the teen was discovered hanging from the verandah by his stepfather. He was rushed to the Fort Wellington Hospital where he was pronounced dead on arrival.
According to a PAHO/WHO report, Guyana has the highest rate of suicide in the world. If you, or any one you know is experiencing suicidal thoughts, you can contact the suicide helpline to receive assistance.
The Inter Agency Suicide Prevention Help Line can be accessed through the following:
Telephone: 223-0818, 223-0009 and 223-0001
Mobile: 600-7896 or 623-4444
Email: moc.oohay@ycnegayug
BBM: 2BE55649 or 2BE56020
Twitter: @guyanaagency
Whatsapp: 600-7896 or 623-4444
Facebook: Guyana Interagency Suicide Prevention Help Line
Around the Web