Prime Minister Moses Nagamootoo yesterday said that he has advised Lennox Cornette, the Chief Executive Officer (CEO) of state-owned NCN to apologise to anchor, Natasha Smith for removing her from the air because she was pregnant.
The revelation last week that Smith had been removed from anchoring because she was pregnant led to condemnation of NCN and Cornette andsaw a protest by journalists. Cornette had denied that Smith had been removed because of her pregnancy.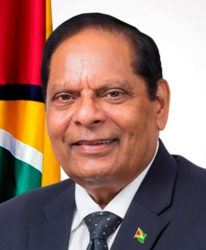 In a statement, Nagamootoo, a longstanding journalist, said:
"From information received and explanations given by the CEO, I am in no doubt that the removal of Ms. Smith was due to her state of pregnancy, and that the act is an attack on her as a woman and as a professional journalist.
"I do not condone any such act and disassociate myself from the action in this matter by NCN.
"Our coalition government stands for full equality of our women and their right to work or association must not be denied or in any way trampled by their free choice to be married or to remain single, or to bear or not to bear children.
"I applaud all those bodies and individuals who came forward in condemnation of this act of discrimination against Ms. Smith who has earned respect for her professional presentation of the NCN News. "
Around the Web