Yokohama Trading, a Suriname-based auto-dealership opened its doors to the Guyanese public yesterday, while boasting competitive prices and the latest models of vehicles.
Deepak Balraj, manager of the local branch, described Yokohama as a "worldwide company that aims to provide customers with good quality products." He explained that all the vehicles are imported directly from Japan, including popular brands like Nissan, Mazda and Mitsubishi.
Balraj noted that the public can soon look forward to the addition of new brands as well.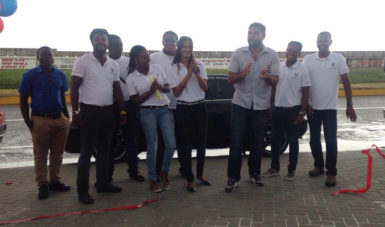 Commenting on the purchasing process, the manager explained that customers have three options: a full cash payment, a hire purchase agreement or financing through the bank.
"If you come with all the cash at one time, you get a better deal from us…with financing, customers will have to make a 50% down payment while the balance can be paid with a payment plan extending between periods of three [and] five years," he said.
Balraj noted that the interest rate on such plans is set at 12% per annum, while customers will also be able to benefit from a three-month warranty on engine, transmission and air conditioning.
Further, he explained that while some persons tend to limit their purchases to a specific model or brand or vehicle, based on the availability of car parts, Yokohama will have available car parts for all the vehicles they have on sale.
"Anytime they have a problem with parts, they can come to us and we will source the parts," he said.
Located at Liliendaal, along the Rupert Craig highway, the new auto dealership is the company's first branch in Guyana. There are also plans to extend business to Jamaica, Trinidad and Barbados, the manager said.
Around the Web