In a celebration of World Literacy Day, Digicel Guyana on Thursday donated books to schools in the indigenous community of St. Cuthbert's Mission on the Linden-Soesdyke Highway.
Staff members visited the St. Cuthbert's Mission Nursery School, where they held readings for students, a statement from the company said.
"Today we are spending some time with these little ones to show them the importance of reading. The staff members are here today to give back to the community by interacting with the students… Digicel supports the notion of promoting literacy, since it is as an instrument to empower individuals, communities and societies," said Digicel's Public Relations Officer Vidya Sanichara.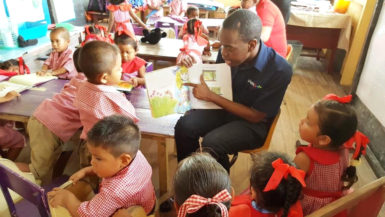 A similar visit was made to the Gifted Hands Special Needs School.
However, Digicel decided to visit St. Cuthbert's Mission since September is officially Indigenous Heritage Month and Education Month in Guyana.
Acting Headmistress of the school Helen Kattow expressed her gratitude to Digicel for playing an active role in the community.
Toshao of the village, Lenox Shuman, who was also present at the event, applauded the company for supporting literacy in the community.
"We appreciate initiatives like this; it shows a different degree of corporate responsibility which is welcomed in our community. The more corporations that do this, the better off we will be," Shuman said. Apart from spending time with the students, Digicel also used the opportunity to donate a quantity of books, back to school items and back packs to the students and teachers during the visit.
Additionally, the company said it plans to visit several other indigenous communities throughout September to make similar donations.
Around the Web