The family of Hema Singh, the 11-year-old who was struck down by a speeding driver on Canal Number One Public Road two weeks ago, is calling for justice after doctors informed them that the girl is now brain dead.
Singh, of 19 Tenez Ferme, Canal Number One, West Bank Demerara, is currently a patient in the Intensive Care Unit (ICU) of the Georgetown Public Hospital, where she is hooked up to a life-support machine.
Singh suffered internal bleeding and swelling of her brain along with a broken foot in the accident.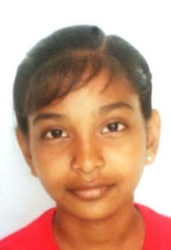 On August 27th, Singh was on the road purchasing garlic for her mother when a speeding vehicle struck her. Her mother, Nalini Sukhu, recalled that she heard an impact and when she looked out she saw Singh in the air.  The grieving mother said from all indications it appears as if the driver of PPP 5344, the vehicle that hit the girl, was distracted. The family believes that he may have been on his cellular phone at the time of the accident. The mother explained after the driver struck her daughter, he stopped some distance away from the point of impact. She said public-spirited persons rendered assistance by picking Singh up and making the driver take her to the West Demerara Regional Hospital for treatment.
The driver was arrested and taken into custody but was later released on station bail. The family, not satisfied with the investigation so far, is calling for the intervention of the acting Police Commissioner David Ramnarine.
"La Grange police dragging their foot on this matter. They let the man go. He already repaired his car but never thought of coming and offer a compensation," said the girl's distraught father, Deobalack Singh.
He said the driver of the vehicle is known to him but is still to approach and express his sympathy. "I involve in travelling two to three times a day, taking taxi and it not like you are giving a taxi $20. It is $500 and up and it is not easy. Let him [the driver] come forward and tell we something," the father said.
The devastated man added that it is hard for his family to accept the reality of Hema's condition. "As a parent, it is hard to have to prepare to put down your child. You more expect them to do it for you," he stated.
As a result of the accident, the family is calling on authorities to install speed bumps to reduce speeding on the roadway.
Around the Web