A New Amsterdam man was arrested on Wednesday after police found over three pounds of ganja hidden aboard a minibus he was driving along the Corentyne Public Road.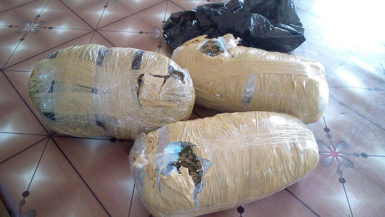 Police sources told Stabroek News that ranks, acting on information, set up a roadblock along the Corentyne public road in the vicinity of the Number 51 station, where they intercepted Sheldon Simon with 1.680 kilogrammes of marijuana (equivalent to 3.7 pounds).
Simon was at the time behind the steering wheel of BVV 2700, which was searched by ranks.
They eventually found three wrapped parcels under a seat. The parcels, which were opened by the ranks in the presence of Simon, contained leaves, seeds and stems suspected to be marijuana. Simon was then placed under arrest at the Number 51 Police Station. Charges are expected to be laid against him shortly.
Around the Web