Two-year-old Emmanie Melvin, who was born with an exposed brain and anencephaly (the absence of a major portion of the brain, skull, and scalp), recently returned to Guyana after undergoing a successful surgery in Suriname and his mother is now appealing to the public for assistance for his post-surgery care.
Felica Melvin, with the support of the Champion of Change organisation, managed to raise $5M, which was needed for her son to undergo surgery after numerous appeals.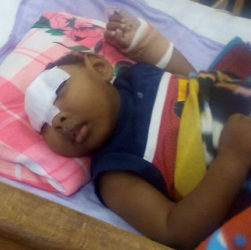 On September 29, 2014, Emmanie was admitted to the Georgetown Public Hospital (GPH), after a referral from the West Demerara Regional Hospital, and after tests it was advised that he seek neurosurgery and plastic surgery care overseas to remove the lesion and repair the defect that was discovered. This advice was given due to the lack of the resources in Guyana.
Initially, doctors in Trinidad were calling for $14M to perform the surgery but the mother later managed to meet a neurosurgeon in Suriname, who, after seeing Emmanie's condition, offered to perform the surgery for $5M.
Speaking to this newspaper yesterday, Felica Melvin expressed gratitude to everyone who assisted as well as those who prayed for her son. She also thanked the Champion of Change organisation and members of the public for their support, while expressing dissatisfaction that she did not receive any assistance from the government.
Since the surgery, Emmanie has been recovering quite well but is currently admitted at the GPH where he is being treated for an infection to the wound.
She said Emmanie is schedule to visit Suriname in the next three months for an assessment and therapy while, there is still an outstanding amount of $800,000 in doctor's fees that need to be paid off.
As a result, Melvin is appealing to the government and the public for further assistance.
Anyone interested in making donations can make a deposit in the Bank of Baroda account number 960-012-495 or contact Felica on 217-0737 and 686-6440.
Around the Web