Three juveniles escaped from the Sophia Juvenile Holding Centre early yesterday morning after they dug a hole in the concrete wall of the lower flat and scaled the fence and up to last evening one had been recaptured, while efforts were being made to apprehend the other two.
The Guyana Police Force, in a brief statement, said the escape occurred around 5am after the trio allegedly dug a hole in the lower flat of the concrete building and scaled the fence.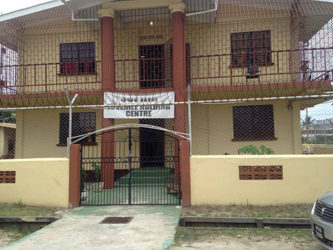 Hours after the incident, the police said, one of the escapees, who hails from Adventure, Essequibo Coast and was on remand for armed robbery, was recaptured at Rose Hall Town, Corentyne.
Efforts were being made up to late yesterday afternoon to locate the other two.
Stabroek News was told that the other two juveniles hail from Georgetown and Berbice. This newspaper was also told that they were taken to the centre on Friday after they were remanded for robbery and break and enter charges.
A reliable source revealed to this newspaper that the juveniles used make shift tools from bed pieces to dig the hole. Ranks on duty at the time of the incident were reportedly sleeping.
When this newspaper visited the scene yesterday, police investigators were seen carrying out investigations.
Efforts made to contact an official in charge of the centre proved futile.
However, a police source indicated that an investigation has been launched into the circumstances surrounding the escape.
Around the Web