A four-year-old girl died and her mother was injured after a van crashed into the car they were in on Saturday around 10 pm.
According to reports reaching Stabroek News, Abiola Trotman and her daughter Abeka Trotman along with Cheryl Williams were in the back seat of a car, PMM 1426, which was travelling south on Sheriff Street.
The car had stopped at the intersection of Sheriff and Garnett streets and had started to turn west on Garnett Street when a van, GPP 3500, which was travelling north on Sheriff Street crashed into the left side of the car.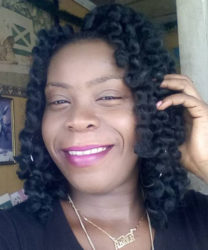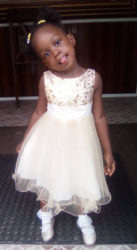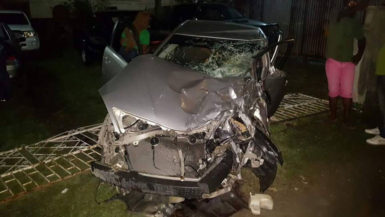 Upon impact, the little girl was thrown out of the window and onto the roadway. She was rushed to    the Georgetown Public Hospital and was pronounced dead on arrival. Trotman, Williams and the driver of the car were also rushed to the hospital where they were treated for injuries.
The driver of the van, who the police said is 19 years of age, was rushed to the Woodlands Hospital. The police stated in a press release that he was tested and found to be above the legal alcohol limit.
"I was walking on the road around that time turning and I see the van coming fast, fast and I didn't think nothing about it cause I thought he woulda stop.
I turn around and in like a split second all I hear is a loud crash and I fling around and see the two cars crash up," an eyewitness related to Stabroek News yesterday. The person said that at the time of the accident, the van had jumped the light which resulted in it running into the car that was turning.
The driver of the car is currently in police custody assisting with the investigations.
Around the Web